BridgeClimb welcomes Daybreak Down Under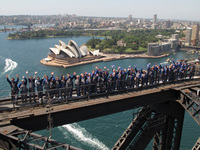 45 lucky competition winners, plus their companions from the high rating UK breakfast show Daybreak, have scaled to the summit of the Sydney Harbour Bridge for an unforgettable welcome to Australia.
As one of the largest groups to climb the Bridge since Oprah and her Ultimate Viewers broke the world record in 2010, the winners were thrilled to be introduced to Sydney by undertaking such a quintessential Australian experience.
The campaign 'Daybreak Down Under' was launched on ITV's Daybreak as part of Tourism Australia's 'There's nothing like Australia' campaign.
Daybreak host, Kate Garraway and crew climbed alongside the 45 lucky winners and their companions to reach the summit of the Bridge for a memorable TV moment which will air on Daybreak in the UK from 7 November.
"I don't know what view you guys woke up to this morning, but how is this for a view! One of the world's most amazing experiences!" Kate Garraway said as she reached the top of the Sydney Harbour Bridge.
Daybreak has an average daily viewing figure of 800,000, many of whom desire to holiday in Australia. The weekday breakfast television programme has followed in the footsteps of Oprah, who worked with BridgeClimb on hosting an unprecedented amount of Climbers on the Bridge at the one time.
"We were honoured to host Daybreak and the 45 lucky competition winners, plus their companions at the summit of the Bridge on a stunning Sydney morning. We are also thrilled that the climb has demonstrated yet again our capacity to cater for large groups of any size," Edward Owens, General Manager of Sales and Marketing at BridgeClimb said.
"I would like to acknowledge the work of all BridgeClimb team members in crafting the experience of a lifetime for the Daybreak Climbers, and many thanks also to Tourism Australia for providing this fantastic opportunity to local tourism operators throughout the country."
BridgeClimb is considered a 'must-do' tourist attraction in Sydney, with over 2.75 million people from over 137 countries having climbed the Bridge since it opened in 1998. Climbers can climb to the summit of this world famous icon on The Bridge Climb, The Discovery Climb or for those who are short on time, The Express Climb.
For more information, visit bridgeclimb.com.