The Hoff to kick-off advent calendar competition in central Bristol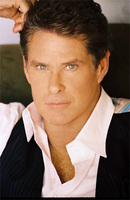 Global mega-star David Hasselhoff is set to wow crowds in Bristol city centre on Thursday 1st December when he officially launches a giant advent calendar at 6pm in Cabot Circus.
The Hoff, who stars as Captain Hook in Peter Pan at The Bristol Hippodrome from 10th December, has been invited by Destination Bristol and Cabot Circus to launch the advent calendar competition which offers fantastic prizes every day until Saturday 24th December. Prizes include daily giveaways of family tickets to watch Peter Pan in January along with prizes from Bristol's extensive range of attractions, hotels, city centre shops and restaurants.
Best known for his iconic roles as Michael Knight in Knight Rider, Mitch Buchanan in Baywatch, and judge on this year's Britain's Got Talent, The Hoff is listed in the Guinness Book of World Records as "The most watched TV star in the world". His role in Peter Pan at The Bristol Hippodrome and his appearance at Cabot Circus to launch the advent calendar is expected to bring thousands of visitors to Bristol city centre this Christmas.
When The Hoff opens door number one of the calendar, he will randomly pick a winner from the crowds and personally hand-over a 'weekend in Bristol' prize. From 2nd December onwards, the calendar, which is a three metre high and wide wooden Swiss-style chalet located on the ground floor of Cabot Circus, will open every day with a message to remind the public to log on to visitbristol.co.uk to discover the daily prize and enter the competition. Later in December when door number 24 opens, the prize will be a chance to meet The Hoff in person after watching his performance on stage at The Bristol Hippodrome.
David Hasselhoff said: "I am so excited to be launching this event. Come along and have your chance of winning tickets to see me in Peter Pan at The Bristol Hippodrome, it's gonna be Hoff the Hook! I look forward to meeting the cool people of Bristol....they rock."
John Hallett, Managing Director of Destination Bristol, added: "We are delighted that David Hasselhoff has agreed to officially launch the city's advent calendar which gives local people and visitors alike the chance to win some of Bristol's best tourism offerings. There will no doubt be a fantastic buzz of excitement in the city centre when David Hasselhoff entertains the crowds on the calendar launch night."
Cabot Circus Centre Director Kevin Duffy commented: "We are thrilled to welcome 'The Hoff' to Cabot Circus - he is a true icon and we're sure the people of Bristol will be very excited to see him. The advent calendar competition will offer the opportunity to win some fantastic prizes throughout December, and we are encouraging as many people as possible to enter."
Heart Breakfast presenters Paris Troy and Paulina Gillespie, will introduce The Hoff to the stage at Cabot Circus at 6pm. There will be a build-up of entertainment from 5pm starting on Broadmead where Peter Pan-themed characters will perform dance routines. The characters and a team of percussionists will then start a procession from Broadmead through the Christmas Markets and end at the advent calendar in Cabot Circus.
In addition to the advent calendar at Cabot Circus, a second calendar will be positioned by the German Christmas Market to further remind passers-by of the opportunity to win daily prizes on visitbristol.co.uk. For those unable to access the internet, a collection point for entries will be available by the German Christmas Market and processed every day.
For a full list of Christmas activities, shopping information, travel offers and more, log on to VisitBristol.co.uk/Winter.