Dive the big 3: HMS Hermes, HMS Repulse, HMS Prince Of Wales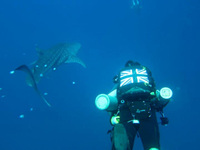 In April 2012 a team of technical divers from Secret Compass will set off on a pioneering expedition to link the three most significant wrecks of World War Two in South Asia, HMS Hermes, HMS Repulse and HMS Prince of Wales.
Less than four days after the attack on Pearl Harbour, HMS Repulse and HMS Prince of Wales fell victim to torpedo bombers on 10 Dec 1941, just off the eastern coast of Malaysia. After the sinking of Prince of Wales and Repulse and the fall of Singapore, British morale dropped. The sinking of these two capital ships shocked much of the world.
With Colombo becoming the new naval base for the combined Allied Eastern Fleet, following the fall of Singapore, it was inevitable that further conflict would ensue. On 9 April 1942, HMS Hermes suffered a similar fate, this time by Japanese Zero bombers just outside Batticaloa.
The expedition, taking place 7-20 April 2012, will be the first of its kind linking these historically important wrecks. Starting with HMS Hermes, the world's first ship to be designed and built as an aircraft carrier. Of only 3 aircraft carrier wrecks that can be dived in the world, she is the only one that was sunk in action. She was only re-discovered less than 10 years ago, and has only been accessible to intrepid divers recently following the end of the Sri Lankan civil war.
HMS Repulse and HMS Prince of Wales were sent by Churchill to save Singapore, they were sunk by Japanese air power – the first ships of their kind to be destroyed by air power in the open sea, less than four days after the attack on Pearl harbour. This was a decisive move that allowed them to move through Malaya and capture Singapore, resulting in what Churchill called the "worst disaster" and "largest capitulation" in British history.
Liam Winston, a qualified TDI instructor who is leading the intrepid team for Secret Compass, said "This is a unique opportunity to follow the trail of the war across the South China Sea and the Indian Ocean and appreciate the significance of the events that unfolded". Connecting these theatres has only been possible since the end of the civil war in Sri Lanka in 2009. "The diving is absolutely spectacular, every time I go there I surface in complete awe at the beauty and majesty of these ships. This is balanced with the poignant reminder of the lives that played out all those years ago in a War with such high stakes".
For more information, visit secretcompass.com.