FreshStart passes £728,765 in savings to its tenants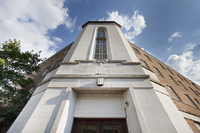 Property development company FreshStart Living is passing on a total saving of over £728,000 per year to its 460 tenants in Manchester, Liverpool and Greenock thanks to cheaper rent, allowing first time buyers the chance to save for a deposit on a house.
Tenants renting at FreshStart Living's developments in Manchester, Liverpool and Greenock are making an average saving of £1,584 per year in rent compared to the rents of similar properties in those areas.
Of the 460 tenancies, 419 rents include gas and electricity bills, Wi-Fi internet and a TV Licence meaning that over the year the tenants are be making an even bigger saving.
As rental demand increases to record levels across the country allowing landlords to charge higher rents, FreshStart Living's ethos of passing savings on to its customers means that its tenants are paying below average rent.
By acquiring sites at below-market value - often bankrupt or distressed stock – and then developing them efficiently and cost-effectively, FreshStart passes on savings to investors and ultimately the tenants.
Currently FreshStart Living has tenants at three of its developments; Bispham House in Liverpool, Montgomery House in Manchester and Greenock-Halls in Greenock, Scotland.
Bispham House in Liverpool consists of one, two and three bedroom conventional lettings. 41 properties are available to rent there giving tenants a combined total saving of £126,137 per year which can then be pumped back into the Liverpool economy.
However, at Montgomery House and Greenock FreshStart offers tenants the chance to make huge savings by just renting individual 'pods' as opposed to whole flats. This means that tenants have their own private bedrooms, but share kitchen and bathroom facilities.
At Montgomery House the 155 resident students are paying £75 per week inclusive of bills and internet. That's £30 per week cheaper than similar accommodation offered by the University of Manchester and means that the students are making a combined saving of £195,300 over the 42 week letting period.
Professionals living in The Annexe building at Montgomery House are paying £325pcm for a room including bills and internet. The average price for a one bedroom flat in Manchester city centre is £630pcm which equals a saving of £305 a month for each tenant. Over 12 months that makes a combined saving of £366,000 per year for the 100 tenants.
FreshStart Livings Letting Coordinator, David Cadman said: "The constant increase in rental demand has resulted in rental prices rising across the country with more tenants finding it harder to afford to pay. FreshStart, however, are committed to keeping rents as low as possible to combat this problem.
"We are finding that renting a room is the perfect solution for many young professionals and first-time-buyers as it saves them a considerable of money. Tenants feel that sharing bathroom and kitchen facilities is just a small compromise when they consider the amount of money they will save in the long run, money they can put towards a deposit on their own house."