Naughty & Nice in New York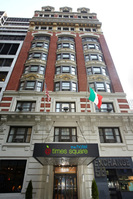 For those wanting to swap hearts and flowers for something a little more hot and frisky this Valentine's Day, The Hotel @ Times Square in New York is offering a Naughty & Nice package throughout February, which includes one night's accommodation, a box of not-too-sweet chilli chocolates and FREE entry into The Museum Of Sex (worth $35).
Located just a stone's throw from The Hotel @ Times Square, the famously risqué Museum Of Sex on Fifth Avenue was the first of its kind in the world and, despite its subject matter is revered by critics, holding a large archive of art, photography, clothing and historical objects.
The chic and cheap The Hotel @ Times Square is also perfect for couples wanting to take advantage of Midtown Manhattan's plentiful bars and restaurants and is also conveniently situated for 2012's newest Broadway shows, including one of America's greatest love stories, Bonnie & Clyde.
What's more, modern-day girls wanting to 'leap' at the chance to propose to their guy a couple of weeks after Valentine's Day on 2012's leap year (29 February), can choose from lots of cool ways to do it. Why not 'pop the question' at the Pop Art Love Sculpture on Sixth Avenue or visit one of New York's secret, speakeasy bars, which provide an exciting and clandestine proposal scene right out of a 1920's black and white movie set. A throwback to the prohibition era when alcohol became illegal, these backstreet haunts offer a unique and perfectly-lit backdrop for a sultry proposal!
The Hotel @ Times Square is offering the Naughty & Nice package throughout February from US$189.99 per couple (approx. £60 per person, per night). The price includes one night's accommodation, a box of chilli chocolates and two tickets to the Museum Of Sex. Hotel amenities include free continental breakfast, free wi-fi, free national phone calls, a fitness centre and bar. Flights and accommodation taxes excluded. To book, visit thehotelattimessquare.com and quote the code NAUGHTY.