The 'no diet' diet to keep your New Year resolution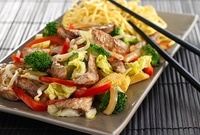 An over indulgence during the festive season can play havoc with your health and waistline. As a result, come the New Year, many of us will be trying to turn over a new leaf to shed the extra pounds gained and embark on a slimming or healthier diet. However, the majority of people who start complicated and often expensive diets soon find them difficult to keep. So what's the answer? It's a matter of cutting back on fat and oils in your cooking. Every time you swap a tablespoon of oil for 4 - 6 sprays of FryLight you save over 100 calories. Simple.
Here is a small selection of great-tasting low fat recipes to help you on your way - Thai Fishcakes which provide 182 calories per serving; Chicken Tikka Masala (193 cals); Stir Fry Pork with Chinese Vegetables (200 cals); Warm Caribbean Fruit Salad (131 cals). Recipes serve 4 unless otherwise stated.
Thai Fishcakes
Preparation time: 20 minutes, plus 1 hour chilling time
Cooking time: 10 minutes
50g long grain rice
450g skinless white fish, eg cod, haddock, roughly chopped
1 fresh red chilli seeded and finely chopped
1 lemon grass bulb, outside removed and finely chopped
Juice of 1 lime
1 egg
1 clove garlic, crushed
1 tbsp chopped coriander leaves
1 tbsp fish sauce (or use light soy sauce)
Fry Light Sunflower Oil
1 tsp finely chopped fresh ginger
2 tsp sugar
3 tbsp light soy sauce
Cook the rice until tender, rinse, drain and cool. Put into food processor with the fish, half of the chilli, lemon grass, 2 tsp lime juice, egg, garlic, coriander, and fish sauce. Blend until finely chopped. Turn into a bowl, cover and refrigerate for 1 hour.
Meanwhile make the ginger dipping sauce by mixing together the remainder of the chilli with ginger, sugar, light soy sauce, 1 tbsp lime juice and 3 tbsp water.
With wet hands divide the fish mixture into 12 small cakes.
Place a heavy based frying pan over a medium heat, when hot spray 8 times with Fry Light, then add half of the fish cakes, cook 4-5 minutes each side until golden and firm. Remove and re-spray the pan, then cook the second batch.
Serve the fishcakes with the dipping sauce of your choice which can be spooned over the fishcakes.
Nutritional data per portion: cals 182; fat 3g, of which saturates 0.5g; protein 24g; carbs 14g; fibre 0.3g.
GI rating: Green

Chicken Tikka Masala
Preparation time: 10 minutes
Cooking time: 40 minutes
FryLight Sunflower Oil
1 tsp freshly grated ginger
3 cloves garlic, crushed
2 x 400g cans chopped tomatoes
1 tsp sugar
1 medium onion, thinly sliced
¼ tsp turmeric
½ tsp chilli powder
1 tsp ground coriander
150ml chicken stock
1 or 2 green chillies, split lengthways
150g reduced fat Greek yogurt
1 tsp garam masala
400g cooked chicken breast fillet in tikka style
Fresh coriander leaves, chopped
Spray a non-stick frying pan10 times with FryLight then heat up and add the ginger and garlic and cook over a medium low heat for 1 minute. Add the canned tomatoes and sugar, then allow to simmer for 10 minutes or until thick and pulpy. Press through a sieve into a bowl to make a thick smooth purée.
Re-heat the frying pan, spray with FryLight 8 times then add the onion and cook, stirring over a medium heat for 5 minutes until golden. Add the spices (except garam masala) with 6 tbsp water and stir over a low heat for 1 minute.
Add the tomato sauce, chicken stock and chilli and bring to simmer, cover and cook for 20 minute, stirring form time to time.
Whisk in the yogurt and garam masala and when smooth, add the chicken, cook gently for 5 minutes, season with a little salt if needed. Scatter over the coriander leaves before serving.
Cook's Tip: for a mild sauce, remove the seeds from the chilli
Nutritional data per portion: 193cals; 30g protein; 3.5g fat of which 0.5g saturated fat; 10.5g carbs;
2g fibre
GI rating: Green

FryLight Stir-Fry Pork with Chinese Vegetables
Serves 2
Preparation time: 10 minutes
Cooking time: 10 minutes
200g lean pork, thinly sliced
1 small onion, thinly sliced
1 small red pepper, seeded and sliced
100g Chinese vegetable mix or Chinese cabbage, shredded
100g bean sprouts
FryLight Stir Fry Oil
200g rice or noodles (not included in calorific count)
Put the pork into a bowl, shake the FryLight can well and spray the meat 10 times, turning to coat evenly.
Put the rice or noodles to cook in boiling water according to the packet directions
Spray the wok or frying pan with 5 - 10 sprays of FryLight and heat up. Add the onions and cook for 2 minutes. Increase the heat and add the pork, cook for 3 - 4 minutes until beginning to brown.
Add the pepper, spray 5 times with FryLight and cook for 1 minute. Toss in the mixed vegetables and beansprouts and spray 10 times with FryLight. Stir-fry for 2 minutes, tossing all the time.
Serve with drained rice or noodles spraying another 5 times before serving.
Nutritional data per portion: 200 cals; 5g fat, of which 1.5g saturated fat; 25g protein; 10.5g carbs;
3g fibre
GI rating: Green

Warm Caribbean Fruit Salad
Preparation time: 10 minutes
Cooking time: 6 - 8 minutes
½ large pineapple
1 mango
1 papaya
2 kiwi fruit
FryLight Better than Butter
4 tbsp Demerara sugar
Prepare the fruit, remove all skin and the hard core from the pineapple and cut into large chunks
Peel the mango and cut the flesh into large pieces. Cut away the skin from the papaya discard the black seed and cut into large pieces. Peel the kiwi and cut into quarters.
Heat the grill to high. Spray a heavy baking tray with FryLight, spread the prepared the fruit on the tray and spray well with FryLight, then scatter over the sugar.
Place under the grill for 6-8 minutes until the fruit is just beginning to brown at the edges, serve at once.
For adults pour a little rum over the fruit once cooked.
Nutritional data per portion: 131 cals; 1g fat of which 0g saturated fat; 36g carbs; 1g protein;
3g fibre
GI rating: green/amber
For more information, visit frylight.co.uk.