Experience exotic climes on a budget with Acacia Africa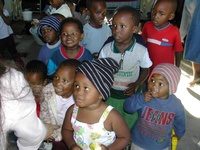 Acacia Africa has an answer for adventurous souls in search of exotic climes in the economic downturn. A new "Premium Overlanding" portfolio will kick off in June 2012, the collection of tours targeted at cash strapped, discerning travellers looking to "truck it, but not rough it" on the continent. And, for those that need a career break, the Africa specialist has launched a selection of "hands on" voluntours, allowing adventure philanthropists to build on their skills, while enjoying an ethical holiday in Africa. Don't want to go long haul? The tour operator is also putting North Africa back on the map with its new 15-day Moroccan Expedition.
Vivian McCarthy, General Manager of Acacia Africa, comments, "There might be a lull in the economy, but people still want to travel. Our Premium Overlanding tours offer a little more luxury out on the road, and those same out of the way locations without the five star prices."
Walk-in tents and local guesthouses feature in the new collection, the upgraded accommodation combined with a "no chores" approach to overlanding. Group sizes are limited to a maximum of 20 people and there are no local payments.
Acacia Africa's Premium Overlanding expeditions start from just £695pp (no single supplement) the 8-day Desert, Delta & Victoria Falls including, wild bush camping in the Okavango Delta and a river cruise on the Chobe River before reaching Zambia's adventure capital. A tour that will get you under the skin of Africa the itinerary also includes a cultural walk with the Kalahari Bushmen and nature treks in Botswana's remote wetlands. Monthly departures. Starts Windhoek – ends Livingstone.
The tour operator is also leading the current drive to expand educational voluntour opportunities in Zanzibar – illiteracy affecting over 40% of the population. Better known as a sun, sea and sand destination, the Spice Island has a lot more to offer; beach clean-ups, tree planting, maintenance work and recycling projects running alongside literacy and primary school teaching programmes on the Zanzibar Community & Wildlife voluntour. 21-days from £1,465 + local payment US$690pp
It doesn't get much more exotic than Morocco, and in just under four hours and you could be soaking up the souks. On Acacia Africa's new 15-day short safari and trek you can marvel at the Hassan II Mosque in Casablanca, the tallest religious building in the world; explore Fes, the oldest and largest medieval city; and relax in the Atlas Mountains. There's also the opportunity to sleep under the stars in a Berber camp and tour the famous Kasbah. Moroccan Expedition from £925pp. Starts and ends Marrakech.
For more information, visit acacia-africa.com.