Compact FL Fire Appliances enter service in North Wales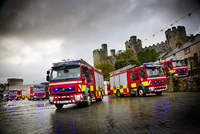 Five new Volvo FL-260 Fire Appliances have joined the fleet of North Wales Fire & Rescue Service as part of a rolling programme of vehicle replacement.

Supplied by Thomas Hardie Commercials on Deeside, a total of 21 new Volvo FL appliances are scheduled to enter service in the communities of North Wales in the coming months. These are the first purchases by the Service of standard front line fire appliances for four years.

The Volvos were specified with a range of new equipment and design concepts such as a power-assisted ladder gantry and drop down steps so that firefighters can operate more effectively and safely. There is also a new electronic control system for the Godiva Prima pump which, says North Wales Fire & Rescue Service Fleet Manager Dave Bond, is "more intuitive and easier to use."

At only 2320mm wide over the rear axles, the Volvos are designed for ease of access for both narrow streets and rural areas such as farm drives and upland tracks which is vitally important in North Wales. Dave Bond reports that an additional benefit of the Volvo concept is a significantly improved turning circle.

Describing the specification as 'compact', Dave Bond says: "We have worked really hard with our workforce, the vehicle manufacturer and fire appliance bodybuilders to create this state-of-the-art frontline fire engine. The standard Volvo crew cab has been reduced in length by 150mm to improve manoeuvrability and turning circle. In addition, we have improved safety for the firefighters riding in the rear with the introduction of seats that cater for a diverse workforce who are spending more and more time in the vehicles visiting communities as part of our pro-active approach to fire prevention."

Seat cushions in the crew cab can be adjusted fore and aft as well as up and down, making them more comfortable for firefighters of different height and stature. Also in the interest of crew safety, the new FLs are fitted with seat belt lock and door open warnings for the driver. Auto door locks are fitted and can be operated remotely by the driver from the rear of the vehicle as well as in the cab.

The GRP bodywork was built and fitted out by Emergency One of Cumnock, Ayrshire. Storage under the ladder gantry has been maximised and there is more generous locker space available than on previous appliances.

The FLs, which are plated at 13,500kgs GVW and have been fully tilt-tested for stability, are equipped with rear air suspension. They have also been specified with a 6-speed Allison automatic transmission and integral retarder to reduce reliance on the foundation brakes.

In an initiative that saves fuel and reduces engine emissions, road speed is limited to 50mph. However, the speed limiter is only active in eco-mode, when the blue lights are off.

Says Dave Bond: "In employing a diverse workforce we want to attract the best people to consider a career as firefighters in North Wales and it is essential that we ensure traditional vehicle designs do not act as a barrier for anyone. The equipment has been specified so that people of different stature and ability can handle it safely. Two of our stations have already taken delivery of the new vehicles and so far the feedback from fire crews has been very positive".