From delivery boxes to delivery room for O'Neill family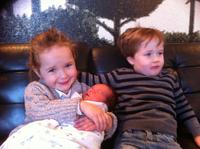 It is said that moving house is up there with divorce and family loss for stress levels. Imagine how Simon and Carmel O'Neill felt as they packed up their London home in preparation for Anglo Pacific World Movers to ship back to New Zealand and baby Violet Rose Veronica O'Neill appeared some five weeks early.

Carmel picks up the story, "Simon and I had a very tight schedule to stick to and Violet certainly didn't feature on the immediate to-do list. We flew in from New Zealand at 5.30pm on the Thursday planning to spend the evening packing the last bits and bobs, but at 6pm my waters broke so we jumped in a taxi to University College London Hospital. By 3am a very healthy Violet was with us."
Carmel continues, "For my operatic tenor husband, the show had to go on so he rushed off at 6am to collect our two and a half year old twins, Grace and Tom, from a friend, drop them at nursery and let in the Anglo Pacific packers. Thankfully everything was sewn up in time for Simon to fly off to the Houston Grand Opera on the Saturday to rehearse his role as Fidelio in Beethoven's opera of the same name. The labour ward must've felt like a strange dream when he touched down in the States."
Fortunately Carmel and Simon had packed the bulk of their London home some three weeks previously so Violet's surprise entrance didn't derail the family's plans. The only minor blip was when Anglo Pacific's men boxed up the twins' clothes as Simon hadn't been there to warn them, but they were easily retrieved and Grace and Tom could dress themselves the next day. Violet's "baby box" had already been set aside – Mummy must have had a sixth sense that she was going to be early.
Carmel finishes, "Without Anglo Pacific's great help and extreme patience we wouldn't have been able to achieve the mission impossible of packing a house, preparing a car for shipping and growing from a family of four to a family of five in the space of just a few days. The team took everything in their stride, adapted to our changing situation and our belongings are now safely on their way to New Zealand."
As a principal artist with the New York Metropolitan Opera, the Royal Opera House in Covent Garden and the Salzburg Festival, Simon is a man in demand with a diary booked up many years in advance. He will now "commute" from New Zealand and use the (now sparsely furnished) London home for the times he takes to the stage in Europe.
For more information, visit anglopacific.co.uk.