The Revo K2: A tower of excellent design and sound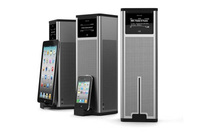 Revo have continued paving the way to digital radio excellence with their latest model the Revo K2. A meticulously developed new design sees an aluminum tower house the very best of components that deliver high quality, high powered sound.
The K2 receives DAB, DAB+, FM and internet radio formats and offers access to online music services such as Last.fm. It will wirelessly stream music from any PC or Mac and is capable of audio and video playback from specific Apple models. The motorised dock is made for several generations of Apple iPod, iPhone and iPad. When in use, the otherwise hidden OLED brightly displays playing information on the graphical screen.
The K2 is equipped with four Balanced Mode Radiator speaker drivers and dual Class-D amplifiers. These combine to produce an expansive soundstage with nearly 360 degree dispersion. Backed by 40watts of sonic boom the K2 has enough power and quality components to flood a room with high fidelity sound.
Revo Technologies CEO, David Baxter, said: "The K2 project was the most ambitious in our history. Our aim was to produce a world-class, hi-fi grade audio device, capable of producing room-filling digital sound, from a relatively modest physical footprint. We believe that with K2, we have created a truly aspirational audio product, and one that elevates the digital radio category."
The Revo K2 is available from Advanced MP3 Players for £299.
For more information, visit advancedmp3players.co.uk.