X-mini go wireless with latest Capsule Speaker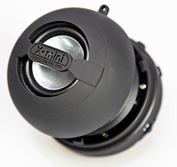 X-mini have exploded into the wireless speaker market with the new X-mini KAI Capsule Speaker, taking Sound Beyond Size to a new level. Expanding upon original Capsule Speaker features the X-mini KAI Capsule Speaker connects up to 10 metres away to any Bluetooth enabled media device without any compromise to audio quality.
Xmi Pte Ltd have taken their range of Capsule Speakers in an exciting new direction. Advancing on their solid entertainment features the new X-mini KAI Capsule Speaker now has the ability to host crystal clear conference calls with its in-built microphone. The wireless transmission has been expertly fine-tuned to retain the high fidelity that Xmi Pte Ltd is known for.
The X-mini KAI Capsule Speaker has a standard 3.5mm jack that will plug into most MP3 players and other X-mini Capsule speakers using the Buddy-Jack option. Using the Buddy-Jack and X-mini KAI Capsule Speaker you can control a fleet of interconnected X-mini Capsule Speakers wirelessly from your Bluetooth enabled phone or media device.
Ryan Lee, Chief Executive Officer of Xmi Pte Ltd, stated: 'We have been working very hard on this project because we know the X-mini Capsule Speaker fans have been waiting for us to come up with a wireless sound solution, so we were very committed to making it a great product to deliver on our promise of Sound Beyond Size.'
For more information, visit dadaudio.co.uk.