Belle Riviere - One of the most exclusive villa estates in Mauritius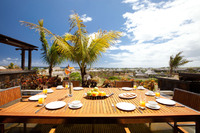 Nestled in a private estate in the South-West of Mauritius is one of the most prestigious privately owned villa estates. Belle Rivière estate consists of 33 exclusive 3, 4 and 7 bedroom villas with access to the acclaimed new boutique hotel brand Sofitel So Mauritius. The estate's villas are designed from island stone and exotic wood and all have ocean views. The villas are within 5 minutes of Heritage Golf Club and 20 minutes from Le Morne Brabant Mountain (a UNESCO world heritage site).
Each villa has an infinity pool with a magnificent view of the Indian Ocean. The suites are bright and spacious and are equipped with over-sized bathrooms and outdoor showers. There are extra double-bedrooms which become practical for large families with children or groups of over six. The villas feature expected technologies such as air conditioning per room, free Wi-Fi, an iPod docking station, a plasma screen with home cinema & DVD player; adding modern comfort to the exotic lifestyle. The large main living area is made up of the open-plan American kitchen, dining room and living room which lead onto the pool.

The villas are all designed with a focus on the outdoor coastal habitat; with lush gardens of indigenous flora opening up to the glistening sea and being constructed from exotic wood and island stone creating the warm Zen ambience. "We are really delighted with these villas" says Julie Gauthier, Director and Co-Founder "The Thalie style villa offers 7 bedrooms in 4 suites and 3 double bedrooms, a first on the island and great for groups of friends travelling together. Two Villa Thalies can be rented together offering accommodation for a party of 30 for a family get together or private wedding."

The villas come with daily maid as standard and the concierge can organize butler and chef, baby-sitters and in-villas masseuse.
All Villa guests have full access and "carte privilege" to the Sofitel So Mauritius Bel Ombre Hotel, where Thai architect Lek Brunnag's inimitable architecture is enhanced by exclusive designs of furniture and interiors by Fashion designer Kenzo Takada. The hotel offers a relaxing and elegant environment to achieve total relaxation and well-being at So Spa and So Fit.

For further information, visit villasdemaitre.com.
About Villas De Maitre
Villas De Maitre is a leading luxury private villa company providing access to some of the most beautiful and exceptional villas in Mauritius and Seychelles. Villas De Maitre directors personally inspect and evaluate each villa guaranteeing that passion for excellence and quality expected by their clients. As well as providing accommodation and destination information, Villas De Maitre can organise extra services to suit every client's needs, whether these are chefs, nannies, catamaran trips or excursions.
Villas De Maitre, market leader in Mauritius & Seychelles luxury private villa rental, has over 18 years experience of representing some of the most exclusive private luxury villas on the islands.