Volvo covers the ground for Eurovia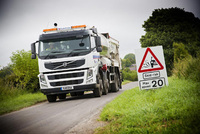 Eurovia, one of the UK's leading provider of highway and infrastructure services, have taken delivery of a new Volvo FM 8x2 rear-steer vehicle for highway resurfacing work. Since its arrival it has proved so successful, there's an order for a second in the pipeline.

The vehicle will be used by the one of the Group's specialist businesses, Eurovia Specialist Treatments.

Their Regional Plant and Fleet Manager, Barry Painter explains, "We had an urgent need for a new vehicle to service the business in this area. Volvo Truck and Bus Centre North & Scotland at Cardonald not only came up with the right 8x2 rear-steer chassis, but they pulled out all the stops with Acmar, the French body builder and the completed truck was delivered with the exact spec' we needed - and to a tight schedule."

The Acmar combination unit sprays and lays as one process and it can complete 7,500 square metres of surface dressing in a day.

Barry says, "Two vehicles like this working together can achieve an outstanding result, that's why the order book is out again."

For the low speed and tight turning circles required, Eurovia needed a manoeuvrable chassis and a transmission that could manage not only extended periods of low speed operation, but also the ability to travel long distances economically at highway speeds.

"The Volvo FM 8x2 rear-steer with its I-Shift automated gearbox has proved to be the perfect solution," says Barry.

The new FM will be used all over the UK, according to demand, and it joins 24 other Volvos on the Eurovia (Ringway) fleet.