To Turbocharge or Supercharge? Let the battle commence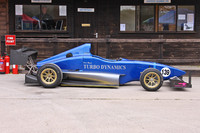 Turbocharger experts, Turbo Dynamics, see the return of TD Racing's DJ Firehawk next season aiming for supremacy in the great debate – to Turbocharge or Supercharge?

The metallic blue DJ Firehawk, last seen out with its' Suzuki Hyabusa engine, bored and stroked to 1600cc, which is one of only six DJ Firehawk's in the country, is undergoing serious modifications. Three of the six DJ Racecars will be racing for TD Racing next season. A 1600 NA (normally aspirated) DJ driven by Richard Hollingworth, a 1340cc supercharged version driven by Simon Marsh and Peter Marsh downsizing the 1600cc engine to a turbocharged 1340cc!

The 1600cc Firehawk went in for a serious rebuild from the ground up! The car was completely dismantled down to the bare tub, which is a full carbon monocoque. The main changes to the original set up is a complete new wiring loom, being made by Renault F1 wiring loom expert, John Truman. The wiring loom has been designed for both the existing 1600 NA engine and the new turbocharged powerplant, currently under development.

The loom has been specifically built around a new Motec M800 ECU and a Motec dashboard/datalogger and a Geartronix ECU. The high end Geartronix paddleshift gear change system replaces the previous unreliable pneumatic paddleshift system. The advanced electronic control systems allow sophisticated and precise boost control in each gear.

As a normally aspirated car it would compete with the 1600 class. However, with a turbocharged engine it is propelled it into the 2L class.

Currently the car weighs just over 300 kilos without driver and the engine output is 250BHP (NA). The turbocharged version will be based on a 1340CC capacity and the engine output in normal trim will be capped at 400BHP.

The turbocharger is a bespokely designed Hybrid unit using a compact ceramic coated, thin wall stainless steel cast turbine housing, a Garrett GT28/GT30 twin ball bearing cartridge assembly, utilising a TD billet machined compressor wheel and TD compressor housing. The whole turbo has been 3D modelled in Solidworks, to allow exact packaging within the car, and for the design of all the pipework required to fit it.

The Exhaust System will be a fabricated stainless steel tubular system designed and manufactured by Primary Designs, leading supplier to F1 teams.

There will also be three different engine maps available: low boost for wet conditions, a default map for normal conditions and a qualifying map. In addition there will be a steering wheel mounted 'push to pass' button allowing a momentary increase in boost, or overboost, for those crucial 'Ultimate Horsepower' events. This button is like those used in Formula Palmer Audi Racing, except this one does not have limited usage.

An audible buzzer will be built into Peter's helmet, which is linked to the ECU, to give an audible instruction on the optimum change gear time rather than reply on the LED display.

The car will be re-launched after testing in 2012. It will be set up for speed hillclimbs and circuit sprints. Then the test will begin… Simon Marsh in the supercharged DJ and Peter Marsh in the turbocharged DJ. Proven to be equally matched throughout the previous two seasons sharing the same car, now begins the perfect battle of the two forced induction methods. Who will win? Turbocharger or Supercharger?

The Trend To Turbocharge
In all areas of the automotive industry, it has been proclaimed that the future is in forced induction. In the battle for increased horse power, fuel efficiency and looking after our environment – Turbocharging hits the headlines!

Formula One is going turbocharged in 2014. Car Manufacturers have been increasingly maintaining power output with a smaller engine whilst promoting fuel efficiency and lower emissions – all through forced induction. David Gould of championship winning Gould Engineering publicly predicted, in his opinion, that the next British Hillclimb Championship will be won by a small capacity forced induction single seater car, a great move away from the historical winners in bigger FI engine racing cars.

But the outstanding question remains – to turbocharge or to supercharge? Let the battle commence.