Coldplay start Volvo Ocean Race New Year celebrations in Abu Dhabi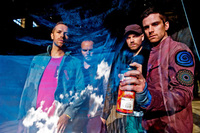 Seven-time Grammy award-winning rock band Coldplay will usher the New Year into Abu Dhabi, kick-starting the emirate's historic hosting of the 2011/12 Volvo Ocean Race, the gruelling round-the-world yacht race, regarded as the 'Everest of Sailing'.
Presented by Abu Dhabi Tourism Authority (ADTA), and brought to the capital by FLASH Entertainment, Coldplay will perform live on 31 December at a unique venue adjacent to the purpose-built 'Volvo Ocean Race Destination Village' on the corniche breakwater - which from 31 December 2011 until 14 January 2012 will host the six-strong Volvo Ocean Race fleet, its sea-hardened sailors and more than 100,000 expected fans.
The British band is relishing a return to the UAE capital, having last played to 20,000 fans in Abu Dhabi in 2009.
On the back of the band's latest album 'Mylo Xyloto', which debuted at number one in 30 countries and smashed the record for the highest number of download sales in one week, ADTA is optimistic that Coldplay's iconic status as one of the biggest bands on the planet will significantly boost visitor numbers to the 'Destination Village'.
Securing Coldplay for the New Year's Eve Celebrations is proof that ADTA, which is managing the emirate's Volvo Ocean Race campaign is delivering on its pledge to make the Abu Dhabi stopover an 'unparalleled highlight' in the 38 year-old history of the race.
"We promised a destination hosting like no other when we began our Volvo Ocean Race campaign and the confirmation of Coldplay's New Year's Eve concert signals our intention to live up to that commitment. With customised travel packages for both the concert and race, we are confident that Abu Dhabi will again raise the bar as a destination of distinction for international sporting events," said HE Mubarak Al Muhairi, Director General, ADTA.
John Lickrish, Managing Director of FLASH Entertainment, spoke of the excitement at securing the band: "In 2009, Coldplay stunned Abu Dhabi with a phenomenal performance that left us in awe. They are a stunning live act with a global fan base of millions, rightfully hailed as one of the biggest bands on the planet. We all know and love their catalogue of hits, but with a hot new album to perform this year, Coldplay live in Abu Dhabi is going to be one of the most memorable New Year's Eve you've ever seen,"

Full details on the show will be announced shortly, including ticket prices, times, and race arena details. Tickets will be available soon at thinkflash.ae (To be sure you are the first to know when tickets go on sale; 'like' facebook.com/ThinkFlashAbuDhabi and facebook.com/abudhabioceanracing)
Travel packages will be available at volvooceanraceabudhabi.com.