Ischgl slopes in great shape for season opening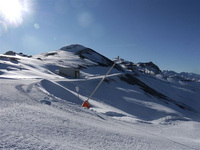 The high altitude, high energy Tirolean ski resort of Ischgl opens on Friday (25 November) for five months of snow-sure skiing and boarding. The attached picture was taken on Monday 21 November and shows a good coverage of snow - the resort reports that 23 lifts and 71kms of piste will be open for the weekend.
The opening of the 2011-12 winter season will be celebrated in traditional Ischgl style on Saturday (26th) with an open air evening concert - this year featuring Swedish pop duo Roxette - which is expected to draw a crowd of 20,000.
Ischgl is renowned for its excellent range of skiing, with the long season launched and closed with big name concerts. Recent seasons have seen The Killers, Gossip, Katy Perry, Elton John and Kylie Minogue draw the crowds to the Top Of The Mountain concerts.
The village is at 1400m in the Paznaun Valley, but the ski base area is a gondola ride away at 2320m and the north facing slopes ensure the five-month long snow-sure season.
Ischgl is also well known for its luxury hotels, après-ski scene and nightlife.
The neighbouring resorts of Galtur, Kappl and See offer quality family-friendly winter holidays at a gentler pace, but with the same emphasis on sport, enjoyment and relaxation.
Galtur opens for the season on Saturday 3 December; Kappl on Friday 16 December; and See on Saturday 17 December.
For more details on all events and activities in the four Paznaun resorts throughout the 2011-12 season go to paznaun-ischgl.com where there is also an accommodation search facility.
The nearest airports to Ischgl are Innsbruck (BA; easyJet), Munich (BA; Lufthansa) and Zurich (BA; Swiss).
British tour operators to the area include Inghams, Crystal, Ski Total, Ski Independence and First Choice.