Barging and Biking - A new concept from European Waterways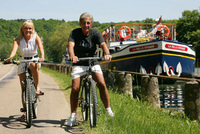 European Waterways are launching their 'Barging and Biking' options for 2012. Because so many passengers enjoy taking some exercise during their hotel barge cruise - especially after indulging in the gourmet meals served on board - all of the hotel barges carry bicycles.
Biking Plus
For those passengers who would like to be a little more adventurous, a number of thebarges now offer a Biking Plus option. Whilst others are relaxing on deck, or maybe enjoying a stroll, guests can take a bike and follow an interesting, but not too challenging carefully researched route.
They will be given clearly marked maps for each round trip route and a backpack with everything they might need so that, for an hour or two, they can explore the surrounding countryside and villages along the lanes and byways. Then they can just rejoin the barge where they left her - or maybe a little further along the canal. They won't miss any of the organised excursions or much of the cruising, but will have seen a little more of the people and places around them - and done themselves some good at the same time!
Tandem Biking
Most people haven't had the chance to ride a tandem bike, but European Waterways now have them on board some of their hotel barges. A romantic and amusing way on a bicycle made for two and not as hard as many people might think.
Biking Charters
Lastly, for more committed cyclists, European Waterways offer biking charters with half day guided itineraries, upgraded bikes and lunch picnics - but still with their usual five star hotel barge service.
Prices for a 6 night Barging and Biking cruise aboard a European Waterways hotel barge are from £2,090pp in a twin/double cabin, including all meals, wines, an open bar, excursions and local transfers. Full boat charters also available.
For more information, visit gobarging.com.