First FMX tipper in South Wales joins Bob Gay Plant Hire fleet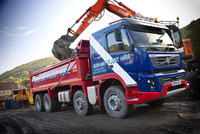 Operating from a depot in Pontypridd, the first Volvo FMX 8x4 tipper sold in South Wales joined Bob Gay Plant Hire recently.

The FMX purchased by Bob Gay Plant Hire is the first Volvo to enter the business for more than a decade and joins a fleet of artics, tippers, excavators and similar plant equipment.

Supplied by Truck and Bus Wales and West at Pontypridd, the truck is powered by the D13C diesel rated at 380hp and features the popular I-Shift two-pedal fully-automated gearbox. The vehicle will be employed on muck-away duties and is being maintained by the Truck and Bus Wales and West Volvo dealership at Pontypridd under a three-year servicing agreement.

"We invested in a sleeper cab because these days we have to go where the work is and drivers are sometimes required to sleep in the vehicles", explained managing director Robert Gay. "Although we hadn't any direct experience of the Volvo I-shift gearbox, I had heard great things about it. So expectations regarding the new Volvo's performance are high," he added.

Designed specifically for arduous on and off-road duties such as muck-away, the Volvo FMX is a purpose-built, heavy-duty vehicle providing operators with a number of operational advantages.

Equipped with Thompson Loadmaster bodywork and Binotto tipping gear, the Bob Gay Plant Hire FMX also boasts a colourful paint scheme featuring a red, white and blue cab. The steel tipper body is also painted red.

"This is not your average muck-away tipper! This vehicle really stands out from the crowd", enthused Volvo salesman Darren Padfield.