JLS: Driven by Volvo - in latest music video 'Do You Feel What I Feel?'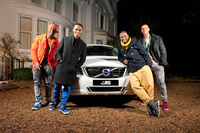 Volvo Car UK has teamed up with JLS, one of the UK's biggest boybands, in their newest music video 'Do You Feel What I Feel?'. Their latest single is the third to be released from their recent album, 'Jukebox', which is on sale now. JLS hit the charts after coming runners up on The X Factor and haven't looked back since. With their debut album going four times platinum and their second album having sold over 600,000 copies, the group's third album will be a sure fire hit.

Arranged through Seesaw Media, Volvo's entertainment agency, the partnership with the group sees them behind the wheel of three Volvos - the C30, the S60 and the XC60, all stars from The Twilight Saga of films and with all three finished off in Volvo's sports inspired R-Design trim.

Commenting on their collaboration with Volvo, JLS said, "We're really excited to have Volvo partner with us on our latest video for 'Do You Feel What I Feel?'. The cars were swagged out, especially the white XC60. Its siiick!"

"Having JLS driving Volvos in the latest video is a great way of exposing our products to audiences who wouldn't ordinarily see them", said Duncan Forrester, Head of Public Affairs, Events and Sponsorship at Volvo Car UK. "I'm really pleased that JLS have chosen Volvo as their first car partner and it follows in the footsteps of work we've previously done with Hard Rock Calling, Snowbombing, V Festival, T in the Park and Wireless, as well as supplying cars to acts such as Dizzee Rascal and Professor Green."

Fans of Volvo's Official Facebook page (facebook.com/insidevolvouk) will be amongst the first to see the new video when it goes live on Friday 25th November. Facebook fans will also be able to see behind the scenes footage of the making of the video, while Twitter followers (twitter.com/insidevolvouk) will soon be able to win exclusively signed copies of JLS's latest album 'Jukebox'.

With Volvo's home being in Sweden, to add to the Scandinavian influence, four times Swedish Grammy Awards Nominee Marcus Lundin, was given the job of directing the video shoot.