Unique honeymoons in Latin America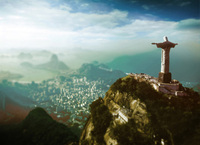 Not traditionally known as a honeymoon destination, Latin America offers everything a newlywed couple could wish for from their trip of a lifetime. Over the past 12 months specialist tour operator Journey Latin America have seen a 60% increase in the number of couples enquiring about honeymoons in this part of the world and as a result have just launched a collection of brand new honeymoons for couples looking for something a bit more unique than the typical Maldives, Seychelles, Mauritius offering.
With the whole of the continent to choose from, Journey Latin America has taken the stress out of booking a honeymoon in Latin America by designing eleven unique itineraries in the areas they feel are most suited for a romantic holiday-of-a-lifetime. Each holiday offers the best accommodation in the most romantic locations and newlyweds will enjoy private excursions to visit the region's best highlights, travel in private transport and benefit from having all their flight arrangements etc pre-booked. And with the help of a dedicated travel consultant, couples can choose to personalise their trip even further to make their holiday a truly memorable experience.
A few of Journey Latin America's hot honeymoon picks include:
An Alternative Honeymoon Safari in Brazil, 15 days from £4,069pp
For a relaxing and stress-free honeymoon, but one that is full of adventure, this honeymoon ticks all the boxes. Stay at two of the best lodges in Brazil's primary wildlife wilderness areas, the Amazon and the Pantanal. Add a couple of days at the stupendous Iguazú Falls on the border with Argentina and stay a few days in fabulous Rio de Janeiro, enjoying its views and sunlit beaches.
Nicaragua, 12 days from £2,026pp
For those looking for something a bit more adventurous and off-the-beaten-track, offering a bit of adventure and discovery, unspoilt scenery with glimpses of wildlife and a little history and culture Journey Latin America propose a honeymoon in Nicaragua, fast gaining popularity among travellers but as yet free of hordes of tourists.
Argentina, 15 days from £4,914pp
For couples looking for something a bit different from their honeymoon: who are not keen on the idea of lying on a beach all day, and would prefer to fill their time with exciting, unique experiences in stunning natural scenery, Argentina will not disappoint. Staying in first-class hotels, feast on sumptuous steaks in Buenos Aires, trek amongst the glaciers of Patagonia, and relax in the beautiful wine region around Mendoza.
Costa Rica, 11 days from £2,384pp
The friendly, peaceful little country of Costa Rica is the perfect choice for a relaxing honeymoon spiced up with a bit of adventure and wildlife watching. This honeymoon holiday includes white water rafting, spotting turtles and exotic birds at a top rated jungle lodge, and long lazy days on a near perfect Caribbean beach; all while based at first class accommodation.
Recently returned from her honeymoon in Peru, Head of Product Diana Henderson says 'Latin America really is a wonderful place for a honeymoon. From a moonlit dinner on a secluded Brazilian beach to star-gazing in the Atacama desert to cruising down the Amazon on a luxury boat, there really is an endless amount on offer to make your trip one to remember. The biggest problem is trying to work out what you can realistically fit in!'.
For further information, visit journeylatinamerica.co.uk.