Citroen DS3 - The stylish solution for Bodytechnics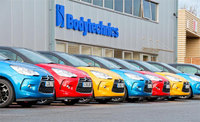 Bodytechnics Ltd, one of the most prestigious body repair shops in the UK, has just added 15 Citroën DS3 DStyle Plus cars to its loan fleet. The Slough-based company has manufacturer or dealer-approved body repair status for a number of brands, but is best known for its work on luxury marques and supercars. Bodytechnics is now offering its clients the use of the stylish DS3s while their own cars are off the road undergoing body repair, cabriolet roof care, alloy wheel refurbishment, air conditioning service or other work.
Rod Wallace, Bodytechnics' Managing Director, explains; "We have a wide ranging client base built up over the last 16 years that is discerning in their taste, whether it be food, fashion or cars. So we need loan cars in which all our customers feel comfortable and the distinctively styled Citroën DS3s provide a premium quality, stylish and comfortable solution. We believe that our clients will appreciate using the DS3s while their own cars are in our workshops."
All Bodytechnics' DS3s have a contrasting black roof and have been specified in red, yellow or blue body colours. Supplied by Citroën London West, the DS3 DStyle Plus VTi 120 manual cars are being operated on Citroën Contract Motoring contract hire agreements.
Bodytechnics Ltd, which has made a multi-million pound investment in state of the art body repair facilities, is the largest independent repairer of its type in the UK and is an approved repairer for some of the most prestigious makes in the UK including Aston Martin, Bentley, Ferrari, Maserati, McLaren and Porsche.