15 new American adventures introduced for 2012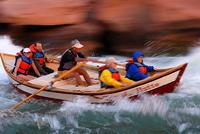 With over 15 years of experience, Grand American Adventures' new 2012/13 brochure features 49 itineraries and 15 new trips, taking travellers further off the beaten track than ever before.
For the more adventurous traveller, the new Grand Canyon Dory Experience takes explorers back in time as they raft through the heart of one of the seven natural wonders of the world. Following Major John Wesley Powell's ground-breaking 19th century exploratory expedition of the American West, the introduction of 14 and 16 day adventures down the Colorado River in a Dory row boat offers a more in-depth and exhilarating experience.
Claire Wilson, MD of Grand American Adventures, said: "With a 40% increase in Northern American adventures this year, we have expanded our new brochure in line with the growing interest for extra comfort as people explore the US. More solo travellers, couples and families are choosing the freedom of small group travel as they seek to experience active, outdoor adventures but with a comfortable bed to return to after an action-packed day and our new brochure reflects this trend."
New trips for 2012
America:

Alaskan Adventure Cruise (15 days from £2,249pp land only / £3,469pp incl. flights) This icy adventure takes travellers to the heart of the Alaskan Inside Passage in a way that only small group adventures can. Passengers aboard the wilderness vessel can travel on two differing routes between Juneau and Ketchikan or go back-to-back for a full fortnight's experience. Highlights include kayaking amongst icebergs, hiking through wilderness and standing atop the mile-wide Baird Glacier.

California Coast – North or Southbound (3 days from £325pp land only / £955pp incl. flights) Ideal if time is in short supply, this Mini-Adventure takes in the sun-soaked delights of the USA's most scenic coastline with highlights including Los Angeles, Monterey, Obispo, Santa Barbara, San Luis Obispo, Santa Cruz and San Francisco.

Grand Canyon Dory Experience (14 days from £2,399pp land only / £3,129pp incl. flights) For a twist on the more traditional rafting tour through the heart of the Grand Canyon, holidaymakers can follow Major Powell's 19th century journey aboard a Dory row boat. From Lees Ferry to Lake Mead, adventure-lovers will enjoy an in-depth Grand Canyon experience like no other.

Western Ranch & Yellowstone (8 days from £1,799pp land only / £2,579pp incl. flights) Complete with cowboy cook-outs and trail rides, this is an authentic experience at Wyoming's first ever 'dude ranch', established in 1898. Travellers will sleep under the stars during an outback pack trip and join in the camaraderie of an open fire. As well as horsemanship, holidaymakers will have the opportunity to fly-fish, trek through Yellowstone National Park and explore the historic town of Cody.

Western Explorer (13 days from £1,599pp land only / £2,279pp incl. flights) Exploring the highlights of the west in comfort, this new tour travels from the City by the Bay to the City of Angels, taking in the desert and staying in hotels along the way. Destinations include San Francisco, Yosemite, Nevada Desert, Zion, Bryce Canyon, Lake Powell, Monument Valley, the Grand Canyon, Las Vegas and Los Angeles.

Yukon Canoe Expedition (14 days from £1,429pp land only / £2,599pp incl. flights) Guests can head along the Yukon River on a two-person canoe as the tour heads deep into the Canadian wilderness with pristine lakes, forests and mountains of this vast and remote region. Far away from the tourist trail, guests travel at a relaxed pace and spend up to 5/6 hours on the river each day.
Canada:

Atlantic Maritimes (12 days from £1,279pp land only / £1,869pp incl. flights) This trip takes travellers off the tourist trail to the charm and rich history of Canada's Maritime Provinces with coastal communities defined by their strong cultural identities. From the sheer cliffs and sea kayaking in the Cape Breton Highlands to the abundant wildlife in Acadia and the colonial town of Boston, natural beauty provides a wonderful backdrop throughout.

Best of the Rockies (19 days from £1,879pp land only / £2,619pp incl. flights) For true wilderness-seekers, this itinerary takes in two of North America's prominent mountain ranges and the continental divide. Starting in Seattle, the tour heads through Mt Rainier and Craters of the Moon National Park to Jackson before heading onto Glacier, Banff and Jasper National Parks, British Columbia and Vancouver.

Northeastern Explorer (12 days from £1,649pp land only / £2,309pp incl. flights) Following early Native American trade routes through America and Canada, travellers will start in New York on an exploration of cosmopolitan cities, small country towns and picturesque landscapes. With a mix of Colonial New England and French Canadian culture, guests will experience Niagara Falls, Toronto, Montreal, Quebec, Acadia National Park and Boston.
Mexico:

Ruta Maya (21 days from £1,499pp land only / £2,259pp incl. flights) For Latin America spirit, ancient pyramids and steamy jungles, Mexico, Guatemala and Belize are filled with treasures both past and present. Taking in the resort of Cancun, the Indian markets of San Cristobal, the dramatic views across Lake Atitlan and the ruins of Palenque, travellers will journey to the volcano-ringed town of Antigua, the island paradise of Caye Caulker and on a boat tour of the Lagoon of Seven Colours at Bacalar.
Family:

Canyon Discovery (10 days from £1,639pp land only / £2,559pp incl. flights) Designed with teenagers in mind, this trip heads out from Las Vegas to the wild-west via Zion National Park, the sandstone pinnacles of Bryce Canyon, Moab (the gateway to Arches National Park) and Canyonlands National Park. Families will also raft on the Colorado river, camp in the wild near Lake Powell, explore native Navajo land and gaze in awe at the Grand Canyon.

Costa Rica Discovery (15 days from £1,279pp land only / £2,199 incl. flights) The country's warm climate, lush vegetation and abundant wildlife make it ideal for families. Heading deep into the cloud-forest, families will explore the lava fields at the live Arenal Volcano and the wildlife in Tortuguero National Park. Highlights include Arenal's hot springs, the Monteverde Skywalk and the palm-lined bays of Manuel Antonio National Park.

Mexico Discovery (8 days from £999pp land only / £1,669pp incl. flights) For a journey back in time to an era when the Mayan Empire ruled the region, families will travel to the UNESCO World Heritage Site of Chichen Iztá with an expert guide and take a short 'calesa' carriage ride in Ixmal to a working hacienda. Cancun, Merida and Valladolid are also explored during the tour.

Pacific & Parks Discovery (14 days from £1,429pp land only / £2,289pp incl. flights) This tour combines the razzmatazz of Las Vegas and the Universal Studios with the deserts of western USA. Mission Beach kick-starts the holiday with optional activities from rollerblading to surfing before the route heads into the desert to the Grand Canyon. Other highlights include the rollercoasters of Las Vegas, Death Valley, hiking in Yosemite National Park, the Golden Gate Bridge and the Pacific Coast.

To find out more contact Grand American Adventures, visit grandamericanadventures.com.