Top 10 Seychelles villas of 2011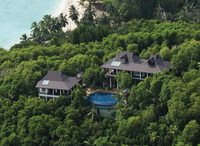 Seychelles is such a beautiful destination; an archipelago of 115 islands in the Indian Ocean. Luxury villas are rare and we have searched for many years for the perfect properties. Unlike Mauritius the properties in Seychelles tend to be built on the hillsides with magnificent views of the ocean and are just a short ride down to world class beaches. On Praslin we highlight two properties Villa Castello which is beachfront and Rocky Bay Villa which is oceanfront. The standard of some of the Mahe properties makes them a delightful alternative to the hotel stay. All villas are staffed and some villas come with a butler and full board options. Eden Island is our latest addition which offers the boating enthusiast a luxury apartment or maison with the quay only a few steps away. We hope you enjoy our selection.

Li-Al-Do Maison (Takamaka, Mahe)

Li-al-do Maison is a beautiful 4-bedroom villa surrounded by a luxuriant tropical garden with its stunning swimming pool and gazebo overlooking the unspoilt bay of Takamaka, on the south-west coast of Mahé, the largest of the Seychelles islands. The architecture of the villa is very much in keeping with the unspoilt surroundings with its decorations and furniture handcrafted by local craftsmen.

It is a great villa for a family reunion or a group of friends with wonderful staff to help you enjoy your stay. The beach is within 10 minutes and many sea excursions are on offer.

Residence on the Rocks (Anse Intendance, Mahe)

Perched in a luxuriant forest overlooking the palm-fringed coral beach and turquoise lagoon of Intendance Bay, South of Mahé, lies Residence On the Rocks. This retreat whose architectural design, as well as interior décor, evokes a sumptuous plantation house from Seychelles' French and British colonial eras.

The villa consists of a two-bedroom Main House on more or less level ground with granite/rock formations on either side for privacy, a one-bedroom Guest House and a fourth suite has just been added. The large infinity pool (10 x 7 m) elevated just below the rock formations offers a vertiginous ocean view. Opposite the Guest House, a gazebo used for alfresco dining, massages and spa treatments sits on a granite rock. A large Jacuzzi nestles in a rock cave next to it.

Villa Petit Amour (Beau Vallon, Mahe)

Situated at the northern end of Mahé in the Seychelles, this stunning four bedroom villa is impeccably appointed with a unique blend of contemporary European and traditional Creole styles. Set within a private tropical garden with palm, frangipani and fruit trees the villa also offers an infinity swimming pool and sunbathing areas, with stunning views of Beau Vallon Bay and the Indian Ocean. A staff apartment is also available. It is rented fully staffed with breakfast and the possibility of full board option.

Eden Island (near Mahe)

Eden Island is the perfect location from which you can explore the true beauty and treasures that these magnificent islands have to offer. Situated just off the mainland of Mahe; The Eden Island Marina development is the Seychelles' Ultimate 5 star self catering resort. Eden Island is a residential marina development featuring a range of beautifully designed luxury Apartments, spacious Maisons and private Villas offering 5-star self catering accommodation. A bridge connects Eden Island to the main island, where the international airport is a mere 10-minutes drive away.

Eden Apartments

The Eden Island Apartments are luxuriously designed to fit with the ideal of island living. Ranging from 88m2 to 215 m2, they are typical one to three bedroom apartments, featuring wide open spaces, big open doors and large windows with extended covered verandas, inviting the beautiful outside in.

Spaced all around the island in apartment blocks not higher than two stories, each apartment comes standard with Miele appliances - washing machine, dryer, oven and hob, a dish washer and of course a refrigerator.
Eden Maisons

Maisons are private and Luxurious duplex homes featuring plenty of space and consist of two to four bedrooms. They range in size from 210m2 to 305 m2.

As with the Apartments, the Maisons come standard with en-suite bathrooms.

Placed privately on plots ranging between 260m2 and 1000m2, no more than 3 Maisons are connected to each other, facing different directions to optimise privacy and bringing the extensive outdoors inside through large verandas and open windows.

Villa Castello (Anse Kerlan, Praslin)

This distinguished Tuscan-style property is located on the north-western section of the island of Praslin with the most impressive sunsets on the island. The property is nestled on one of the most beautiful white powder-sand beaches of the Seychelles with excellent opportunities for swimming and bathing. It presents a fascinating view onto the islands of Cousin and Cousine as well as Mahé and Silhouette. From the Beach Pavillon you can look over both offshore beaches and a breathtaking outlook onto the sea.It has our double bedrooms with 3 bathrooms. It has a wonderful private swimming pool and a fantastic beach location. It is also within proximity of Castello Beach Hotel for dining and activities.

Bay View Villa (Anse Boileau, Mahe)

This wonderful 6-bedroom villa of 650m² (sleeping up to 13 guests) with swimming pool facing the sea and located on Mahe (the capital island); is the perfect spot for holidays with the family and a group of friends. A wonderful option for groups and incentives...

Bay View Villa is on the most beautiful coast of South West Mahe between the Barbarons tip and the Anse Boileau Bay, ocean front and in an oasis of calm and greenery. It is 20 minutes from the capital city Victoria and 25 minutes from the international airport by car. There are a few shops and restaurants some 10 minutes from the villa on foot, and the only equestrian centre in Mahe is also nearby.

It is the ideal central point to visit the island. The capital city Victoria will surprise you with its full colour market, its shops, its religious buildings and its few colonial creole houses. Up north, the national Morne Seychellois park will captivate you with its beautiful flora and its majestic panoramas. On the east coast, the Jardin du Roi will immerse you in an old spice plantation with its master house and its amazing estate. Finally, the enchantress west coast will fascinate you with its succession of wild and idyllic beaches.

Villa de Cerf (Cerf Island, near Mahe)

Nestling against this unique backdrop and commanding sublime views of the coastline of east Mahé, Villa de Cerf provides luxury and privacy in an exquisite island retreat that boasts four spacious, elegantly-furnished rooms on two floors of an imposing, colonial-style villa not far from the water's edge. Among further villa facilities are a spacious lounge/dining room and swimming-pool with wide terrace and sun deck while the services of a live-in hostess and cook are available to ensure maximum guest comfort and the best possible introduction to mouth-watering Seychellois Creole cuisine.

Cerf Island, part of the beautiful Ste. Anne Marine Park, is close to the scenic east cost of Mahé, the principal island of the Seychelles archipelago, and offers one of the most tranquil and unique landscapes of all the Inner Islands. Having long been the traditional settlement of choice for the privileged few, Cerf Island gives its residents a refined ambience as well as all the benefits of fine island living: silver-sand beaches, hidden coves and a pristine interior just waiting to be discovered.

Rocky Bay Villa (Anse La Blague, Praslin)

Rocky Bay is a luxurious villa perched ten meters above water and overlooking the picturesque sandy bay of Anse La Blague in Praslin. Its peaceful and unique location on a private rocky headland has breathtaking views and its close vicinity to the sea makes it a highly sought after holiday environment.

The villa offers four double bedrooms with double beds and with their own private balcony and sea views. The villa comes with housekeeping and a chef. A rental car is recommended. This is a great villa for a family holiday and children under 12 stay free. The villa rental comes with housekeeping and chef.

Royal Bay Villa (Anse Royale, Mahe)

The Royal Bay Villa is situated towards the southern part of Mahé Island. It overlooks the beautiful bay of Anse Royale and its magnificent beach (2 minutes walk).

With its Mediterranean 'hacienda' look Royal Bay Villa offers four well appointed bedrooms upstairs,
two of which with double beds are en suite whilst the other two (1 double & 1 twin) share a large bathroom. All rooms are air-conditioned and have their own external balcony and most bedrooms also offer views of the ocean. Great villa for a family holiday and children under 12 stay free. Villa rental comes with housekeeping and chef.

Hilton Seychelles Labriz Resort & Spa Resort

The villas are located on Silhouette Island (a marine national park, that is regarded as one of the most important biodiversity sanctuaries of the Indian Ocean), 30 kilometers from Mahe, the main island where the international airport is situated. A 40 minute boat ride or a short helicopter flight from the main island of Mahe, Silhouette island is known for its dramatic mountain peaks, rich cultural heritage and unique biodiversity.

Only steps from the idyllic palm fringed beach, all of the stunning Villas at The Hilton Seychelles Labriz Resort & Spa Resort offer spectacular views, luxury amenities, wireless internet access and spacious living areas. Various villa types (some with plunge pools) offer great accommodation for couples and families of 2 adults and 2 children. There are also plenty of activities with a fitness centre, PADI dive centre, spa and a total of 7 restaurants.

About Villas De Maitre

Villas De Maitre is a leading luxury private villa company providing access to some of the most beautiful and exceptional villas in Mauritius and Seychelles. Villas De Maitre directors personally inspect and evaluate each villa guaranteeing that passion for excellence and quality expected by their clients. As well as providing accommodation and destination information, Villas De Maitre can organise extra services to suit every client's needs, whether these are chefs, nannies, catamaran trips or excursions.
Villas De Maitre, market leader in Mauritius luxury private villa rental, has over 18 years experience of representing some of the most exclusive private luxury villas on the islands.

For more information, visit villasdemaitre.com.