Couple snap up home on former office site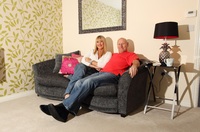 When John Allman and his girlfriend Jill Parkinson decided to take a look at Taylor Wimpey's Cotton Mills development they didn't need a guide to show them around.
The couple were more than familiar with the area after John spent 20 years working there – in the days when it was a cigarette factory.
Now the couple have bought their dream house there – on the exact spot where his office used to be.
A former lab technician, the 51-year-old spent two decades working at the Gallaghers' plant before moving out of the area.
And when he and Jill, 51, decided to come back to Hyde they couldn't believe how the site had been transformed.
They snapped up a three bedroom Earlsford home before realising it was being built in the area where John had worked for all those years.
As Jill, an accounts administrator, explains: "We were keen to come back to the area and we love new homes so when we heard about Cotton Mills we thought it sounded perfect.
"It was only when we came to look that we realised where it was and when we reserved John realised we were going to be living in the exact spot where his office had been.
"What are the chances of that?

"We had downsized to an apartment before but we missed having a garden and wanted more room for our grandson Jackson so a three bedroom was ideal.
"Now we're in and we're really appreciating all the space. There has been an extra bonus – my car insurance has been halved since I moved here so it must be a nice area!"
The luxury Cotton Mills development features a stunning collection of luxury two, three and four bedroom properties and has a cosy, community feel.
Situated close to the beautiful Peak District countryside and offering easy access to the M67 motorway, Hyde boasts a good range of local shops and nightlife.
As Anthony Mansfield, sales and marketing director for Taylor Wimpey Manchester, explains: "Cotton Mills enjoys an enviable setting and as the Allmans said, it is a development that comes with a fascinating history.
"As well as a wide selection of homes – with prices starting from as little as £111,995 – we have a range of financial schemes and incentives to make buying easier than ever.
"So why not come along and take a look – it might make 2012 a year to remember?"
To find out more, visit taylorwimpey.co.uk.