Botanical dream in southern Tanzania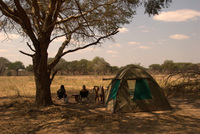 Unlike the stark plains of northern Tanzania, the Selous Game Reserve and Ruaha National Park in southern Tanzania provide a fertile oasis for plants and trees to flourish. From the giant baobab tree - the only tree that can re-grow its bark, to the cactus-like candelabra tree which 'bleeds' poisonous sap used by tribesmen for hunting, the wild and remote Selous Safari Camp, Jongomero Camp and Ras Kutani provide the perfect environment to encounter this fascinating plant life.
Situated on the shores of Lake Nzerakera in the Selous Game Reserve, the Selous Safari Camp's abundant water source supports the beautiful open palm forest in which it resides. The game reserve itself is home to over 2,100 species of plants and on a walking safari, guests are taught about their medicinal uses, as well as about ecology, game tracking and dung identification. This region is dominated by the classically African flat-topped Terminalia spinosa trees, which offer shelter from the sun for dozing lions and grazing herds of zebra and impala.
Located north-west of the Selous Game Reserve, the Ruaha National Park is a comparatively drier wilderness and home to the boutique, eight-tent Jongomero Camp. The Ruaha covers a unique transition zone where the eastern and southern species of flora meet. It is common to see the skeletons of trees stripped of their bark by the thriving elephant population - with the exception of the ancient baobab tree which, as a result of thousands of years of evolution can actually grow back its bark, almost like skin.
An idyllic retreat for nature-lovers, Jongomero Camp's staff encourage guests to absorb the natural world around them, offering alfresco dining on the dry sand river and serving delicious Amarula Cream, made from the local marula fruit to guests as the sun sets over the camp. Guests also receive a small twig from the Feretia Apondanthera shrub on their pillow at night. In Massai culture this shrub is meant to have a magical quality and encourage positive spirits for travellers.
Hundreds of miles from the hot and dusty interior, on the relatively undiscovered southern Tanzania coastline, the beach retreat of Ras Kutani sits within 100 acres of lush tropical, coastal forest. As much of Tanzania's coastline has suffered from heavy deforestation, this pocket of nature is protected and offers a rare opportunity to explore one of the most bio-diverse indigenous coastal forestsin East Africa.
Ras Kutani is home to a wealth of unusual plants, but one of the strangest has to be the knobwood, with its cork-like protrusions and short spines. The plant has been known to be used locally as an aphrodisiac - which is an appropriate quality to have, as the romantic beach retreat's picturesque white-sand beaches and seclusion make it very popular with couples and honeymooners!
Rainbow Tours (rainbowtours.co.uk) is offering a nine-night safari and beach adventure in Tanzania from £3,795 per person (saving £300 per person). Available for selected departures from 8 January until 1 March and throughout June 2012, the package includes flights from Heathrow with British Airways, six nights on safari split between the Selous Safari Camp and Jongomero Camp with game drives in open sided 4x4 vehicles, walking safaris and boat safaris, plus three nights at the exclusive beach retreat of Ras Kutani, on a full-board basis. Also included are internal flights, road transfers, taxes and surcharges.