Diamond H's first Volvo takes truck-mounted cranes to new heights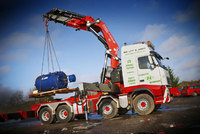 To meet rising demand from the sector generally, and wind farm construction companies in particular, heavy lifting specialists Diamond H Transport have invested in a new Volvo FH-500 Heavy Haulage 8x4 tractor unit equipped with a FASSI F1500XP crane.
This is the company's first-ever Volvo and was supplied by Thomas Hardie Commercials. The tractor unit and its dedicated trailer are plated for operation at up to 70 tonnes GCW under STGO Cat 2 regulations.
According to Diamond H Transport Managing Director Steve Holding, the heavy duty FASSI F1500XP crane fitted to the new FH is one of only three currently operating in the UK.
The Volvo chassis was specified and packaged to suit the crane installation which was carried out by FASSI Main Regional Dealer, The Crane Centre Ltd at Sandbach, Cheshire.
Unfolding like the Transformer's Optimus Prime, the crane features 11 booms and extends out to 27 metres. Steve reports that it typically lifts 20 tonne loads with ease and can easily handle loads of 4 tonnes at 20 metres and 2 tonnes at the full reach of 27 metres.
Total unladen weight of the tractor unit and crane is 30 tonnes with the crane accounting for 13 tonnes. A substantial subframe manufactured from Weldox 700 high tensile Swedish steel has been fitted to the whole length of the chassis and this also carries the hydraulically operated outriggers and landing legs. Setting up the crane, says Steve, takes as little as 15 minutes. Operation of the crane is radio-controlled and features numerous safety features including sophisticated stability monitoring and control systems to safeguard the crane, the load and the operator.
Steve reports that, despite the long wheelbase, necessary to accommodate the crane installation and maintain legal axle weights, the FH has a good lock and turning circle.
Due to their 'can do' attitude and focus on heavy lifting, Diamond H Transport, says Steve are able to undertake most jobs, including international work, at short notice. As he says: "If we can't do it, it can't be done !"