Follow Paul Merton to Florida Keys Woofstock 2012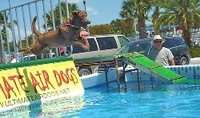 The Florida Keys & Key West are renowned for their extravagant festivals and dynamic parades, including Fantasy Fest which rivals New Orleans' Mardi Gras, and Hemingway Days which celebrates the powerful legacy of Pulitzer Prize-winning author Ernest Hemingway, who lived in Key West throughout the 1930s.
However, following the success of Channel 5's "Paul Merton's Adventures" series, there's a new "Top Dog" in the Keys for 2012. The highlight of Paul's episode shot in Florida was his visit to Woofstock, dubbed "a day of peace, paws and music" to raise money for animal rescue organisations.
The lively event is held at Islamorada's Founders Park and includes a variety of musical performances and canine competitions including Ultimate Air Dogs, where dogs compete to jump the furthest into a swimming pool of water, and America's Next Top Dog Model, where the prettiest pooch is crowned.
A variety of local pet products is available for purchase from the participating stalls and the choice of food is plentiful throughout the day, including the regional delicacy conch fritters.
Woofstock 2012 will be held Saturday 10 March. Admission is free and visitors are encouraged to bring their swimming costumes as an Olympic-size pool is open for all to use.
For further information on Woofstock, visit keyswoofstock.com. For information on the Florida Keys & Key West, visit fla-keys.co.uk.