Indus Tours opens the door to the 'real India'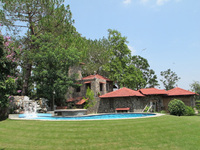 Indus Tours, the tailor-made holiday specialist to India, South-East Asia, the Middle East and beyond, has introduced inspiring homestay options to its highly-acclaimed India programme to give holidaymakers the opportunity to truly enjoy local hospitality and get a more in-depth experience of this fascinating country.
Working with the award winning company Mahindra Homestays, the new programme covers a full range of properties from palaces, heritage estates, hilltop cottages, and comfortable plantation homes to stylish new builds. Privately owned and operated, each homestay provides guests with a unique opportunity to immerse them in authentic, everyday Indian family life. With the appealing combination of memorable locations, modern facilities and traditional Indian hospitality, homestays allow travellers to really get under the skin of the destination and achieve a level of insight and enjoyment that goes way beyond the mainstream tourist experience.
As well as offering a decidedly different style of holiday accommodation, Indian homestays can also provide guests with an opportunity to enrich their travels by accompanying their hosts in a range of unusual and rewarding activities. Being such a large and diverse country, the scope of possible activities and interactions in India is huge. Examples can range from such everyday experiences as shopping in colourful markets (and learning how to bargain like a local!) or learning how to prepare fresh, home-cooked meals, right through to more adventurous activities like mastering the steps of a traditional dance, trekking with sherpas or getting up close and personal with an Indian elephant. By becoming part of the host family and participating in their day-to-day lives, guests will be exposed to unprecedented and unforgettable encounters with the cultures, customs and lifestyles of India's vibrant and varied people - helping to make their trip into the holiday of a lifetime.
From exotic forts and peerless palaces through to charming boltholes in the midst of a metropolis, Mahindra Homestays has options to suit every conceivable style of holiday. All the key destinations across the country are covered, including the major cities with landmark, must-see attractions. In Agra, for example - home to the UNESCO World Heritage Sites of the Agra Fort and India's most iconic monument, the Taj Mahal - guests can relax amid the minimalist comforts of the Garden Villa. This newly-built premises in a modest, inner-city suburb is expertly run by the Rajbansh family, who, as Agra natives, are well versed in both the city's history and its contemporary highlights. The house has two guestrooms (one twin and one double) and offers activities including cookery demonstrations, yoga classes and local tours. The house is close to the city centre and just 2km from the Agra Fort, to which the owners can arrange taxis to ensure guests' comfort and convenience.
For something more historical, Arunima Heritage in the seaside city of Alleppey is a truly charming, 75-year-old private house that will transport guests back to the days of the spice trade. Once the home of a prosperous spice merchant, the property offers four guestrooms and many original features such as high ceilings, sturdy doors, stained-glass windows and an open-air atrium in which traders once thronged. The tinkling of the atrium's fountain enhances the house's relaxed ambiance, while guests can also unwind on the wooden veranda and watch the world pass by on the street below. For a change of pace, guests have the opportunity to explore Kerala's famous backwaters on a traditional wooden houseboat, or there's an extensive, sandy beach within walking distance of the house. The owners, Mr and Mrs Sali, provide such an outstanding welcome that entries in the B&B's guestbook frequently refer to them as 'Grandpa and Grandma' - a testament to the extraordinary hospitality they bestow upon their guests.
From Kerala's lowlands to the highest mountain slopes, there are homestay options to be found in every corner of the country. Another historic example is the Darang Tea Estate, which is a stunning, 150-year-old property set amidst 70 acres of verdant plantations. The house, which offers stunning views of the snow-clad Himalayas, is owned and run by Mr & Mrs Bhandari, a cultured and respected couple whose gracious hospitality makes guests feel immediately at home. There are three guestrooms, one in the main house and a further two rooms in a cottage on the grounds. The homestay's kitchen makes full use of the fruits, vegetables and organic tea that are grown on the estate, while the area as a whole is rich in opportunities for hiking and wildlife-spotting.
To better enable customers to make the most of the wide choice of homestays, Indus Tours has created a selection of suggested itineraries that combine a range of regional highlights with the personal and charming ambiance of a homestay experience. A special, 14-day North India itinerary, for example, takes in the cities of Delhi, Agra, Jaipur and Jodhpur alongside visits to key attractions including numerous forts, palaces and World Heritage Sites, with accommodation in local homestays (including Garden Villa) throughout. Another option would be the 12-day Kerala itinerary, which takes in Cochin, Thekkady (for tiger-spotting) and the lush, green hills of Wayanad, again with homestay accommodation throughout (including one night aboard a traditional houseboat). Both these packages cost from £1,750 per person and include flights, transfers, B&B accommodation, attraction admission fees and the services of local, English-speaking guides. Of course, all itineraries are fully flexible and can be tailored and tweaked to suit customers' individual choices and preferences.
Commenting on these new accommodation options, Yasin Zargar, Managing Director of Indus Tours, said, "This wonderful selection of homestays allows our customers to see a different side of India, a world beyond their guidebooks that they'd never get to experience in a regular hotel. By going off the beaten track, homestay guests have the chance to see life through the eyes of the Indian people and discover the authentic hospitality for which the country is famed. Each homestay property has a story to tell, whether it be about the hosts, the location or the house itself - and of course, every holiday comes with the high levels of quality, service and value for money for which Indus Tours is renowned."
For more information, visit industours.co.uk.