Save 25% off family holidays to France booked before 22 January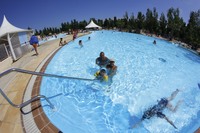 Save 25% off all 2012 breaks from French family holiday specialist siblu villages by booking before 22 January. There are 14 siblu villages across France, all with their own pool complexes, free children's clubs and entertainment.
Save £185 on Loire Valley holidays
The Loire Valley was the go-to place for French royalty before the revolution, which is why the region is dominated by so many stunning châteaux, pretty villages and towns.
Where to stay: Domaine de Dugny is an outstanding 4-star siblu holiday village with free kids clubs and a highly praised pool complex. There's a small boating pool that's also good for fishing. Several of the most famous chateaux, including the Royal Château at Chambord, Château Chenonceau and Château Royal d'Amboise are close by. Prices start from only £557, saving £185, for a seven-night stay from 14 July for two adults and two children.

£255 off family holidays in the Charente Maritime
Charente Maritime is the sunniest region of France's west coast and has massive sandy beaches hidden by forests of pine trees. There are lots of fun seaside towns so the destination is perfect for family holidays.
Where to stay: Bonne Anse Plage siblu holiday village is on the edge of La Coubre forest and within walking distance of the sea. The parc has pools and slides, a climbing wall and cycle paths that snake off to the local beaches. Families can stay for seven-nights from only £766 from 14 July, saving £255 by booking before 22 January.
Savings of £273 on Languedoc break
Languedoc is a Med-coast region that enjoys buckets of sunshine, incredible beaches and beautiful scenery. Languedoc is the world's biggest wine region, covering almost 300,000 hectares and producing more wine than Australia.
Where to stay: La Carabasse is a huge holiday village with a giant pool area. There are beaches, shops and restaurants within walking distance and the kids will love the energetic clubs. Seven nights start from only £819 for a family from 14 July, saving £273 for bookings before 22 January.

For more information or to book, visit siblu.com.