Exchange your old property for an energy efficient new home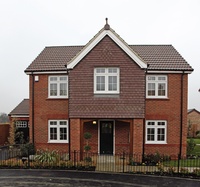 The Government may be promising financial help to upgrade old properties to be more energy efficient, but why not bypass the effort altogether and beat the chill with a brand new home.
The Green Deal initiative won't take effect until the autumn, whilst those choosing a brand new Redrow home at Saxon Court in Sherburn in Elmet can benefit from in-built energy efficient measures straight away.
Instead of enduring a long cold winter in a property that's difficult to heat, canny purchasers could enjoy a home that's already warm, toasty and economical to run.
Patsy Aicken, sales director for Redrow Homes (Yorkshire), commented: "Built to increasingly demanding environmental standards, our new homes are already packed with features designed to minimise energy use. Well insulated, with double glazing and central heating included as standard they are 40% more efficient to run than homes built only a decade ago and 70% more economical than properties built before 1990. This makes a brand new Redrow home the obvious choice for those who want to enjoy a warmer winter without having to worry about the cost of cranking up the heating."
The homes at Saxon Court are among just 1% of the nation's homes that achieve a 'B' rating for energy efficiency.
The standard Redrow specification includes highly efficient heating systems with thermostatic heating control. State of the art double glazed doors and windows, plus ultra-effective wall and roof insulation mean they consistently outperform the recommended minimum air-tightness standard and they lose less heat and have fewer draughts; while ground insulation helps keep floors warm.
The homes also boast energy-efficient light fittings and water-efficient kitchen and bathroom fittings for further savings.
Patsy added: "Improving the efficiency of your current home may help save money on fuel bills, but why spend time and money doing that when you can move to a brand new home designed to be more economical in its use of energy?
"The cost of making an older property as energy efficient as one our new homes soon mounts up. To install a new heating system, loft insulation and new double-glazed windows in a typical three-bedroom home could set you back almost £10,000."
Current availability at Saxon Court includes three and four-bedroom homes that are almost ready to move in to, on the market from £219,999.
And with part exchange available, buyers could find that making the move from old to new is quicker and easier than they anticipated.
"We can help customers to sell their existing property and enjoy a hassle-free move up to a bigger, better, brand new home. In simple terms we'll buy their old home so that they can buy one of ours and they could agree the deal in a matter of days," Patsy explained.
For further information, visit redrow.co.uk.