Wheel and tyre choice cuts CO2 emissions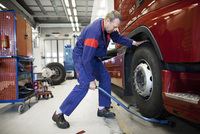 In 2010, global CO2 emissions from burning fossil fuels rose by more than 5% according to the International Energy Agency. At the same time the vehicle industry dedicates huge amounts of resources to reducing CO2 by just a few percentage points. However, minor adjustments to vehicles can have a surprisingly large effect on fuel consumption and CO2 emissions, according to a study by Volvo Trucks and Michelin.

The revelation in November that a new international treaty on climate change will be delayed until 2020 at the earliest means that the actions of individual people and companies to reduce their carbon emissions will become even more important.

Recent research by truck maker Volvo and tyre manufacturer Michelin shows that a quick and simple measure can have a significant impact on emissions without the need for major outlay or new ways of working: checking and correcting the tyres and wheels on your vehicle.

The study shows that having the right tyres, tyre pressure and wheel alignment can reduce fuel consumption - and therefore CO2 emissions - by up to 15%. If the environmental incentive is not enough, in financial terms that could be a saving up to €8,000 (£6,650) per vehicle per year.

"We know that wheel alignment, tyre type and tyre pressure all have a major impact on fuel consumption," says Arne-Helge Andreassen, business area manager for tyres and wheel alignment at Volvo Trucks' Aftermarket department. "However, there is a lack of awareness in the transport industry about the importance of checking tyres and wheel alignment on both the truck and the trailer. At our dealers, we can help haulage companies check the entire combination and correct any problems. If everyone did this, it would have a significant impact on carbon dioxide emissions."

Volvo Trucks and Michelin decided to produce statistical data on just how much wheel alignment, tyre pressure and rolling resistance affect fuel consumption and therefore CO2 emissions. In a two-week long, 1,000km test, a combination with optimal tyres, tyre pressures and wheel alignment was compared with a vehicle featuring different wheel alignments and tyre parameters.

The tests were carried out on a track and in a workshop under the watchful eye of SP (the Technical Research Institute of Sweden). The trucks were equipped not only with fuel gauges, but also with special instruments that monitored exact speed, tyre wear, tyre pressure and rolling resistance. The test engineers made adjustments in the test results for factors such as wind, rain and temperature.

"All the conditions tested were realistic, and no exaggerations were allowed," says Andreassen. "Real life is bad enough. Diesel consumption increases dramatically if the wheels are not entirely parallel. And this applies to all vehicles, for construction and long-haul operations too."

Analysis of the test results reveals that there can be a difference of as much as 14.5 per cent in fuel consumption depending on how the wheels are aligned and equipped. Choice of tyre can cut consumption by as much as 11 per cent; correct tyre inflation brings a reduction of 1 per cent, while proper wheel alignment can cut fuel consumption by 2.5 per cent.

Jacques de Giancomoni, Technical Account Manager at Michelin, explains that one-third of fuel consumption stems from the tyres' rolling resistance. "Having the right tyres is of paramount importance," he says, adding. "But checking tyre pressure - which also has a significant effect on fuel consumption - is also important."

Andreassen says that as a manufacturer of heavy vehicles, Volvo has considerable responsibility for the effects of its products, and it takes that responsibility seriously. "We must try to do everything we can to reduce emissions of carbon dioxide," he says. "It's not enough to just build fuel-efficient engines; Volvo Trucks works consistently and in a variety of ways to cut the fuel consumption of our vehicles throughout their lifecycle."

Of course correcting the tyre pressure and wheel alignment will not stop climate change, but as commercial traffic accounts for 30 to 40 % of total carbon dioxide emissions from road transport, it is another small but significant step towards a lower carbon future.