If you experience one carnival this year - make it German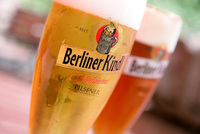 With the festive season out of the way, it's time to plan for Carnival - that spectacular time of year that sees many cities throughout the world explode into fanfare of colour, music and dance.
The Germans do carnival surprisingly well with many dating back centuries, so they have certainly had the time to perfect the parade and subsequent party, and anyone looking for a fun filled city break should check out these popular Carnivals:
Cologne's Rose Monday Carnival Parade - 20 February 2012
Cologne is one of Germany's prettiest cities and its Carnival is extremely popular drawing crowds of around 10,000. The Carnival celebrations that start on 16 February culminate with the official parade on 'Rose Monday', an unforgettable experience for visitors as the floats make their way along the 7-km route.
Frankfurt's Fastnachszug - 19 February 2012
Frankfurt's carnival dates back to the 14th century and is one of the oldest in Germany. Celebrating the winter coming to an end in a blaze of music and colour, the jovial court jesters, frightening scarecrows and hunch-backed witches entertain the crowds.
Berlin's Carnival of Cultures - 25 - 28 May 2012
Berlin does things a little differently and they have been running their Carnival of Cultures since 1996 in May, which belongs to the Berlin Pentecost festivities and is one of the most spectacular events in the German calendar. The Blücherplatz in Berlin-Kreuzberg changes into a colourful street festival, with four stages where music from various world regions are performed, and over 400 stands offering culinary delights and handicrafts. The peak of the celebrations though is the street parade with almost 5,000 participants from 80 countries that takes place on the Sunday.
The German Travel Centre is offering two-night city breaks to Cologne, Frankfurt or Berlin from £260 per person including flights on Lufthansa and accommodation on bed and breakfast, in a city centre hotel.
For more information, visit german-travel-uk.com.