Only sunshine in sight with 'Rain Refund' at the Kempinski Soma Bay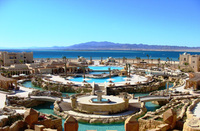 After enduring months of dreary British weather, catching some rays on a luxury sunshine getaway is often a top priority for UK holidaymakers. To make sure that all its guests enjoy the sunny holiday they deserve, the beautiful Kempinski Hotel Soma Bay is now offering all guests a 'Rain Refund' if those grey clouds and raindrops should happen to turn up!
The 'Rain Refund' is a way to reimburse guests for any lost sunshine by offering a complimentary night for every day of rain during their stay on the same board basis to be taken within 6 months. General Manager, Hany Abdelmoneim comments, "We created this offer as a fun way to help guests enjoy their holiday even if it does rain. Soma Bay enjoys sunshine for 365 days a year but if in the unlikely case rain does make an appearance, guests can make light of it and are rewarded a complimentary night."
Kempinski Hotel Soma Bay is the perfect destination for a relaxing, rewarding and exciting holiday. The hotel is home to a 7,500 square-metre Thalassotherapy Spa complete with a 750 square metre Aquatonic Pool. The property features 325 beautifully designed guest rooms and suites, its own private beach and 7,000 square metres of fabulous outdoor pool, waterfall and lagoon area. Within easy access of Kempinski Hotel Soma Bay is the world class Cascades Golf & Country Club and the Soma Bay Dive Centre where exceptional diving facilities are on offer. Guests can enjoy an endless amount of activities!
For more information, visit kempinski.com/somabay.