HMC to host exciting new Motoring Record Breakers exhibition!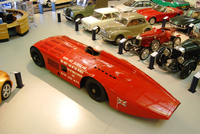 Being the year of the Olympics and hopefully a year when plenty of British athletes will break records; the Heritage Motor Centre is set to host an exciting new exhibition entitled "Motoring Record Breakers". The exhibition, which will run from 11 February – 2 September 2012, will present the best of motoring record breakers including some of the fastest British cars, the slowest, smallest, most economical and the more wacky record breakers.
Visitors will have the opportunity of exploring vehicles that created new horizons and take a journey into history with a selection of vehicles that have helped change the face of motoring. Some of the exciting cars on display include the Sunbeam 1000hp, the first car ever to set a land speed record of over 200mph and the steam car 'Inspiration', which holds the land speed record for a steam car which it secured in 2009. The previous record was set in 1906!
Tim Bryan, Head of Collections at the Heritage Motor Centre stated "Our Motoring Record Breakers exhibition is an exciting collection of amazing vehicles which we are thrilled to be exhibiting. Featuring an eclectic mix of vehicles – some of the giants, and minnows, of motoring history, the exhibition will bring them to life with both adult and child-friendly interpretation. This exhibition really is a must for everyone and not just car fans!"
Families can also enjoy a special Half Term 'Record Breaking' fun week from 11 - 19 February. A themed quiz and trail will take place all week along with a special free family craft day on Thursday 16 February. Taking place in the Education Room from 11am – 3pm, families can work together to create exciting crafts, and perhaps even set some records of their own! The HMC is also continuing with its record breaking theme at Easter. From 31 March – 15 April, children can join in with record breaking egg-citing fun & make and race their own egg car, plus quizzes and other crafts and activities. Craft days will also take place on Thursday 5 & 12 April. Normal museum admission prices apply and children can take home what they make.
There is no extra charge to see the Motoring Record Breakers Exhibition as it is included in the standard Museum entry fees. Museum prices are: Adults £11, Child £8 (5-16 years) under 5 free, Concessions £9 & Family £34 (2 adults & up to 3 children).
Motoring Record Breakers is just one of many exciting and unique events to take place at the Heritage Motor Centre in 2012. To find out more information, visit heritage-motor-centre.co.uk.