Luxurious Sony wireless speaker docks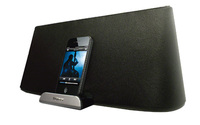 Don't compromise in your search for perfect sound and design. 'Made for iPod/ iPhone/iPad', five all-new X Series premium speaker docks from Sony unite luxurious looks with audiophile reproduction of your favourite sounds.
Designed for today's digital lifestyles, the new X Series lets you enjoy music just the way you want to. Dock your iPod/iPhone/iPad and enjoy your music while it recharges. Alternatively, stream audio from your iPod/iPhone/iPad, smartphone, tablet or Personal Computer over your home wireless network. It's a great way to enjoy music while keeping your mobile device in hand – like if you're in charge of the party playlist. Docked or over wireless, you'll be rewarded with powerful, richly detailed sound that makes X Series the focal point of any living space.
The all-new X Series is headed by the flagship RDP-XA900iP that delivers a commanding 200W of music power. A match for the smartest interior, its audacious new design shuns sharp angles for smooth, sensual curves.
Accentuated by eye-catching brushed aluminium details, the rounded cabinet cuts unwanted resonance for solid, distortion-free extended bass. The speakers are covered by a high-quality fabric material that adds to the dock's premium appearance without compromising audio reproduction.
Made for iPod/iPhone/iPad, every X Series dock gives more options to connect wirelessly and enjoy your music collection, whatever you're doing. If you're the owner of an iPod touch/iPhone/iPad or Mac, compatibility with AirPlay streams your library in iTunes over Wi-Fi for satisfyingly detailed, compression-free sound. And if you don't have a player that's compatible with AirPlay, it's just as easy to stream audio via Bluetooth from smartphones, tablets or your PC.
Powerful, premium sound is centre-stage with Sony's new X Series docks. Sony-developed DMC* technology guarantees clear, involving audio, even when the volume's turned up.
The 2.1ch system with dual passive radiators delivers commanding bass without distortion, even at high sound pressure levels. It's complemented by S-Master Digital Amplifier technology, Clear Phase processing and Magnetic Fluid Speaker Units to ensure clear, full bandwidth sound that's close as possible to the original source.
Equally arresting in its design but more compact than the RDP-XA900iP, the RDP-XA700iP delivers a room-filling 60W total output power. It shares many of the audio features of its larger sibling, including DMC* technology and S-Master Digital Amplifier. Wireless music streaming is supported through AirPlay, like on the RDP-XA900iP, but the RDP-XA700iP does not include Bluetooth.
Ideal for any room or as a secondary music system, the RDP-XF300iP and RDP-X280iP (only in the UK) offer 40W of equally refined sound in a compact, elegant design. Made for iPod/iPhone/iPad – like all X Series docks – these models offer Bluetooth connectivity for wireless music streaming from your iPod touch/iPhone/iPad, smartphone, tablet or Personal Computer.
Very high audio quality is assured by separate tweeters for left/right channels that deliver beautifully articulated vocals and instruments. RDP-XF300iP and RDP-X280iP (only in the UK) feature a built-in rechargeable battery offering up to 6 hours play time. This gives you the freedom to take the dock with you around the house, or even on trips away. The RDP-XF300iP also features an FM tuner for pristine reproduction of your favourite radio broadcasts.
While not designed as a portable unit, the RDP-X200iP also delivers 40W total output power. Just like the RDP-XF300iP and RDP-X280iP, it allows wireless streaming of your music via Bluetooth. Separate tweeters deliver great sound quality with smooth, detailed vocals and uncompromised bass.
The RDP-XA900iP (with AirPlay and Bluetooth) and RDP-XA700iP (with AirPlay) speaker docks with wireless streaming are available from March 2012. The RDP-XF300iP, RDP-X280iP and RDP-X200iP with Bluetooth wireless streaming are available from May 2012.