Time to move, not improve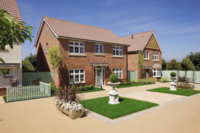 Award-winning housebuilder Redrow says that homeowners could save themselves a small fortune in DIY costs, not to mention time and energy, by choosing to move rather than improve.
With a stunning selection of properties available at The Bowery and Aurora Spring developments, which make up part of the 'Cheswick village' in Stoke Park, Bristol, Redrow is urging homeowners to think twice about making the investment in DIY at a time when making the right long-term financial outlay is vital. This guidance is a result of research undertaken by Redrow that shows that it can cost around £30,000 to bring an older property up to the same standard as a new home.
Redrow has calculated the significant sum by totalling the cost of installing equivalent standard kitchens, appliances and bathrooms as well as a new energy efficient heating system, replacement windows and a host of other features, which come as standard in a new home.
In addition to the clear financial benefits of moving from, rather than improving an older property, Redrow also has a compelling green philosophy that it applies when building new properties – therefore giving homeowners additional peace of mind when choosing a new home that it will be more economical both financially and environmentally. Not only are Redrow's new homes built to the very highest standard, but they're built to a greener standard too – therefore contributing to a more eco-friendly lifestyle for the buyer and their family.
With the cost of fuel ever on the increase, buyers will also feel safe in the knowledge that Redrow homes are also on average 40% more energy efficient than homes built pre-2002, and 70% more energy efficient than homes built prior to 1990 – not only good news for the environment, but also presenting the opportunity for homeowners to make significant savings of up to £556 a year on household bills* with a new home than if they owned an older property.
Redrow's new developments, Aurora Spring and The Bowery, part of the 'Cheswick village' in Stoke Park, are ideally located just a few miles from Bristol and within easy reach of the M4 and M5, offering commuter convenience, with the welcome of community living to come home to.
Nikki Boulton, area sales manager for Redrow Homes (South West), said: "The homes at The Bowery and Aurora Spring make for an ideal solution for families who want an easy life and feel confident that their home is both efficient and cost effective to run. With part exchange available on selected properties, now is the ideal time to upgrade your living space.
"On 28th January, we are opening two new show homes and a sales office at Aurora Spring, so look forward to welcoming future residents and give them a flavour of what is possible".
Prices range between £142,995 and £415,995 at The Bowery and Aurora Spring developments.
For further information, visit redrow.co.uk.