Tee off this spring at the Tenerife Golf Trophy 2012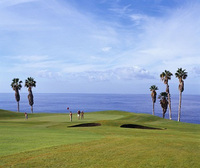 Tenerife is to host the Tenerife Golf Trophy 2012, a friendly tournament aimed at amateur golf players, from 21st to 28th April 2012. Organised by the Association of Golf Courses in Tenerife, the event is expected to gather golfers from all corners of Europe on the island of Tenerife.
Designed to offer an informal and fun environment, the competition will be held at 3 of Tenerife's championship golf courses; Abama Golf, Golf Costa Adeje and Golf Las Americas.
To take part, visitors must book a golfer package, which includes a 7-night stay at any of the participating hotels, 3 green fees (with a picnic included), transfers to the courses throughout the tournament and a closing awards gala dinner.
Non-golfer packages are also available for partners and travel companions that do not wish to participate.
Of varying budgets, packages include stays at Sheraton La Caleta, Iberostar Anthelia, Hotel Jardin Tropical, Arona Gran Hotel, Sandos San Blas Hotel and Compostela Beach Apartments.
While enjoying the pleasant sunny climes of Tenerife, visitors can also expect to relax and unwind on the nearby beaches, enjoy the hotel's facilities and explore the island's magnificent landscapes, such as the Teide National Park, featuring Spain's highest mountain.
With 8 world-class golf courses, a variety of hotels catering for golfers, year round sunshine and just four hours away from the UK, Tenerife is an ideal choice for both golfers and visitors alike.
Further information on the Tenerife Golf Trophy 2012, as well as information on how to book, is available on en.tenerifeisladegolf.com/tenerife-golf-trophy.