Discover the stars of Hotel Chocolat's spectacular Easter range!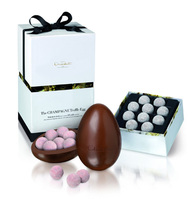 Luxury British chocolatier and cocoa grower, Hotel Chocolat, is launching an Easter range that is full of style and its renowned British wit - created to put an uplifting smile on everyone's face. The range has an egg for absolutely everyone this Easter - from the best-selling Extra Thick Eggs and Egg Sandwiches, to magnificent Ostrich Eggs, hedonistic Truffle Eggs and imaginative new children's eggs.
The undoubted jewels in the crown are Hotel Chocolat's renowned Extra Thick Eggs, which this year come in simply beautiful hatbox-inspired, keepsake boxes. They capture the full excitement of Easter with shells up to 3 times thicker than the average and thrilling chocolates hiding inside. And as Easter is time for families and friends to get together, the range is also full of little gifts and treats and fun ideas for egg hunts and races and more. CEO and Co-founder, Angus Thirlwell, reveals some of his favourites this year:
The Champagne Truffle Egg
A sleek and stylish new egg, presented in a gorgeous, keepsake box finished in white gloss and black ribbon. With thick 40% milk chocolate shells inside and a delicious collection of 20 classic and pink champagne truffles - for a delicious touch of sheer luxury. £47 490g
Mini Truffle Eggs
These stunning Mini Truffle Eggs are perfectly sized as little gifts to surprise someone, or to use as stylish Easter table decorations. They're filled with two elegant champagne truffles or alcohol-free gianduja truffles hiding inside chocolate shells.Champagne Truffles (40% milk egg) Gianduja Truffles (70% dark egg)£7 60g
The Eggsibitionist Extra Thick Egg
With thick shells cast in classically creamy 40% milk chocolate and an array of exciting chocolates hiding inside, these rather special eggs are full-on Easter adventures beautifully presented in ribbon-tied hatboxes. Featuring a selection of 12 mini eggs filled with soft caramel, smooth hazelnut praline, raspberry truffles and more - so there's something for everyone to love. £26 500g
Egg & Chips
This true British classic has never tasted so good! With a creamy white chocolate egg served sunny side up with a soft caramel yolk and mellow milk chocolate, caramel-filled chips.£12 150g
Up, Up And Away!
Whether they prefer to lift off in a rocket or float away like a butterfly, these children's eggs are sure to fire up the imagination - featuring 40% milk chocolate eggs, chocolate Easter Lick lollies and exciting fold out wings for hours of fun!£12 140g
Dippy Egg
This visually stunning little gift is guaranteed to put a great big smile on absolutely everyone's face. It's the perfect dippy egg recreated with a creamy white chocolate yolk, a milk chocolate soldier and a 40% milk chocolate shell.£15 70g
For more information, visit hotelchocolat.co.uk.