Dream weddings in North Cyprus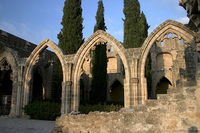 Outside the Eurozone yet close enought to be able to invite family and friends, it is little wonder that an increasing number of British couples are choosing to marry in North Cyprus. The Island basks in year-round sunshine and there are several stunning settings to choose from. Highlights include the pretty hillside village of Bellapais, with its dramatic 14th-century gothic Abbey; the Korineum Golf and Country Club, boasting breath-taking 360-degree coastal and mountain views; and not forgetting miles of glorious sandy beach.
Honeymoons in North Cyprus
Those choosing to honeymoon in North Cyprus are in good company: it is said that Richard the Lionheart spent his at St. Hilarion Castle near Kyrenia. The distinctive triple turret layout gives St. Hilarion something of a fairytale feel and is reputed to have inspired Walt Disney's Sleeping Beauty Castle.
From five-star luxury to intimate adults-only boutique hotels, there are several excellent accommodation options in North Cyprus. Set in the heart of the picturesque Bellapais village, the Bellapais Gardens is the only hotel in North Cyprus to have been granted 'Special Class' status by the Tourism Ministry. The stunning cliff-top lounge and beautifully kept tropical gardens are real focal points at this 17-room boutique hotel. At the opposite end of the spectrum, the Kaya Artemis Resort Hotel is a vast self-contained luxury complex positioned on its own stretch of beach. An impressive range of facilities includes spa, scuba diving school and tennis courts.
New for 2012 is the five-star Palm Beach Hotel; set on a fine, pale sandy beach, the property is within easy reach of the old walled city of Famagusta and its chic, sea-view suites are a great choice for honeymooners.
Istanbul and North Cyprus, Twin-centre
Istanbul is a popular add-on to a honeymoon in North Cyprus, with several specialist tour operators offering the city/beach combination. A typical package would comprise three nights in Istanbul followed by a 7-night holiday in Kyrenia or Famagusta.
For a list of tour operators offering holidays in North Cyprus and more information on the region, visit simplynorthcyprus.com.