Allinson inspires you to grow your own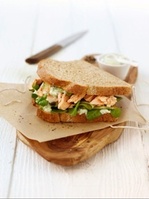 In the late 19th century Thomas Allinson sowed the seeds of healthy living and was a firm believer in the importance of fresh produce, prescribing the consumption of at least two salads per week. Inspired by his passion for vegetables and herbs, Allinson is now providing you with the tools to enjoy the simple pleasure of home-grown food, along with good wholemeal bread, with a grow-your-own Herb Garden kit.
Containing a selection of parsley, chives and basil seeds, the Herb Garden kit includes all you need to grow your own herb garden.
Parsley - no kitchen should be without a good supply of this multi-purpose herb. It can be used as a garnish and flavouring.
Basil - a versatile and widely used aromatic herb. Basil is an annual plant that is easy to grow from seed but is very sensitive to cold.
Chives - the smallest and most delicately flavoured member of the onion family, chives are a popular herb used in European cookery.
Continuing Thomas Allinson's philosophy for healthy eating why not incorporate these herbs into some of your everyday meals such as:
Poached salmon and watercress sandwich with basil mayonnaise
Delicious poached salmon served with watercress and mayonnaise flavoured with fresh basil leaves. Try using any of your favourite herbs: chives, tarragon, parsley or dill would all work well.
Preparation time: 5-10 minutes
Cooking time: None
Serves 1
Ingredients
2-3 large fresh basil leaves (or to taste)
Freshly ground black pepper
Freshly squeezed lemon juice
2 slices Allinson Wholemeal Batch bread
A large handful of watercress leaves, woody stalks removed
6-8 cucumber ribbons (see cook's tip)
85g (3oz) poached salmon, flaked
2-3 teaspoons of ready prepared mayonnaise (or use your own favourite recipe)
Method
Finely chop the basil leaves and stir into the mayonnaise. Season to taste with freshly ground black pepper and freshly squeezed lemon juice. Chill until ready to use.
Spread a little basil mayonnaise over each slice of bread. Arrange the watercress, cucumber ribbons and flaked salmon over the top of one piece of bread and sandwich with the remaining piece. Press together gently and cut in half to serve.
Cook's tip:
Use a vegetable peeler to peel down the length of a whole cucumber to create the cucumber ribbons.
Tokens for Allinson's grow-your-own Herb Garden kits will be available from March to June 2012. Simply collect and send off six tokens from packs within the Allinson Bread range (plus a £2 contribution to cover postage and packaging) in order to obtain your complimentary Herb Garden kit. Alternatively you collect and send three tokens from packs along with a cheque for £5 ( which includes postage and packaging). For further information, visit allinsonbread.com.