Optimised line-built Volvo drays join Carlsberg fleet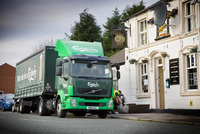 Designed and built to provide optimum operational flexibility and ease of use for drivers and crew, 16 new Volvo vehicles entered service with Carlsberg UK Ltd at their Stonecross (Warrington) and Croydon Regional Distribution Depots recently.

Carlsberg UK Logistics is the last national brewer with its own in-house distribution providing drinks distribution to pub chains and free-trade customers with its 330 vehicle fleet.

All 16 vehicles are equipped with an automated gearbox, the 14 Volvo FL-290 Urban Artic tractors having the six-speed overdrive 'I-Sync' and the two 26-tonne FM-330s the familiar I-Shift 12-speed.

Andrew Davis, National Fleet Engineer for Carlsberg, reports that the automated gearboxes have been 'very well received' by drivers.

"Knowing that we can specify exactly the vehicle we want and that it will be factory-built to our requirements and not converted from a rigid gives Volvo a distinct advantage in the Urban Artic sector," said Andrew. "Having something that is factory-built provides peace of mind," he added.

The Urban Artics will operate with single axle semi-trailers at a gross weight of 26-tonnes and are expected to cover around 35,000 to 70,000 km annually. A two-man bench seat is installed to accommodate a three-man crew if required for training purposes.

The two Volvo FM 6x2 day-cab rigids feature a hydraulically-steered rear axle to improve manoeuvrability and are fitted with a nine-metre long curtain-side body and 2.5-tonne cantilever-type tail-lift.

Power is provided by the Volvo 11-litre engine rated at 330hp. Low-profile Michelin Energy tyres are installed in order to keep the deck height as low as possible and to optimise fuel use. These vehicles will cover around 70,000-km per annum. Both artics and rigids are equipped with telematics and will carry out between 10 and 18 deliveries daily.

Servicing at Stonecross takes place overnight and is carried out by Thomas Hardie Commercials at an on-site Carlsberg workshop. Volvo Truck and Bus Centre, London looks after the Croydon-based vehicles from a site adjacent to the Carlsberg depot. The vehicles are supplied and maintained under a 'very flexible' PPK contract pioneered by Carlsberg and Volvo Financial Services.

"These are competitive times for any business," said Andrew Davis. "Uptime is just as important to us as capital cost. So having a fleet of well-proven vehicles serviced by professional Volvo personnel at night helps put us in pole position to meet our challenging customer service key performance Indicators," he concluded.