Pack your trunk and party with the elephants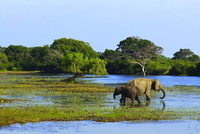 Sri Lanka is well known for both its elephants and festivals but few people know that the festival of Esala Perahera in Kandy coincides with the Elephant Gathering in the Minneriya National Park.
Cox & Kings' Sri Lanka: Enchanted Island private journey can be run in reverse, with an additional night in the cultural triangle, to combine both of these celebrations. The 15-day / 13-night private tour is priced from £2,795 per person and includes flights with Sri Lankan Airlines, private transfers and excursions, and accommodation with breakfast daily. Depart between 19 and 22 July to see the best of both.
The annual Buddhist festival of Esala Perahera is a celebration in honour of the sacred tooth relic, taking place for ten days from 23 July until 1 August 2012. A decorated elephant carries the relic out of the temple through the streets while dancers, fire-breathers, drummers, jugglers and tuskers all adorned with elaborate costumes form a spectacular parade through the streets of Kandy. The faithful devotees pray to the Gods for good rains to cultivate the crops during what is one of the biggest Buddhist celebrations of the year.
Sri Lanka is renowned for the largest concentration of Asian elephants in the world. Every year, the Minneriya National Park plays host to a spectacle known as the Gathering, which occurs during the dry season from August to October. The Minneriya tank, built for irrigation purposes in the third century AD, attracts over 300 elephants to drink and graze on the grasses that flourish as the tank's waters retreat, sheltering under the trees during the heat of the day and venturing out at dusk.
Cox & Kings offers a range of luxury tours to Sri Lanka including escorted group and private tailor-made tours. A 14-day / 12-night escorted group tour is priced from £2,275 per person including international flights, transfers, excursions and accommodation with breakfast daily.
For further information, visit coxandkings.co.uk.