Campaign for better tyres to extend reach to individual consumers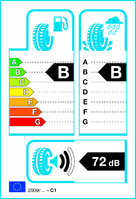 After a well-received announcement earlier this month that they were focusing on the public sector, Environmental Protection UK's Campaign for Better Tyres (CfBT) will be extending its reach to individual drivers. In order to do so, tyre fitters and garages will be targeted as information points to communicate to customers about the new tyre labelling coming in this November.
As a final piece of work to target fleets, the Campaign for Better Tyres has joined forces with Road Safe and their Driving for Better Business campaign. Through Driving for Better Business, the Campaign for Better Tyres is able to communicate its message using their network of 7000 private and public sector fleet employees. Work in this area will still continue along with processing the FOI requests that have been made.
In order to best reach individual consumers, the Campaign for Better Tyres has teamed up with Motor Codes. Motor Codes is a self regulatory body which was set up by the motoring industry and is owned by the Society of Motor Manufacturers and Traders (SMMT). Motor Codes operates the Service and Repair Code for garages as well as two others, the New Car Code and the Vehicle Warranty Products Code.
The Service and Repair Code helps motorists to identify responsible garages, giving them peace of mind as well as recognising quality within the industry. Over 6,600 garages subscribe to Motor Codes and the Campaign for Better Tyres will be able to use this extensive network to advise mechanics to ensure that customers are fully aware of the labels and the benefits of quality tyres. Electronic leaflets will also be distributed to be printed out and shown to customers. If funding can be found, prints of the leaflets as well as posters will be made and distributed.
The Campaign for Better Tyres is also able to use Motor Codes' Good Garage Finder for the CfBT website. This means that visitors to the website will be able to find a garage in their area where they can be assured of quality advice on the subject of tyres.
For more information, visit bettertyres.org.uk.