'Move your caravan' offers from Haven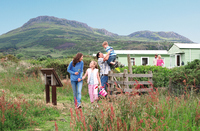 Recent research carried out by Haven, the UK holiday park operator has revealed that what Mums and Dads would like most for their family is a seaside holiday where their children can enjoy the freedom to roam free and 'just enjoy being kids'.
And it seems those couples who have taken the plunge and bought themselves a holiday home at the coast are keen to share the experience with their friends and family. A staggering 20% of Haven's new holiday home owners chose to buy after recommendation by a relative or family friend.
'There's such a good social life and a great sense of community amongst our owners', said a spokesperson for the brand. 'Many of our parks have exclusive facilities such as lounges, bars, health clubs and spas and even 'owners only' swimming pools. In addition we arrange lots of social events including regular themed party nights and special experiences such as chocolate workshops or wine tasting.
But it's not just about the organised events and facilities – it's more about the informal get-togethers with other owners and the way the kids make friends that makes it a great way to spend your free time. People on our parks look out for each other and for each other's children in a way that's really refreshing.'
If you already own a caravan holiday home but would like to enjoy the atmosphere and additional lifestyle benefits that Haven offer there's a great deal available at the moment to support the transition from other parks. Haven are offering to help meet the costs of transporting your own holiday home and will re-site your caravan for you on your chosen Haven park at no cost to yourselves.
The 'move your caravan' offer is available at a number of their parks for a limited period. For more information, visit moveyourcaravan.co.uk.