Citroen Berlingo is Institute of Transport Manager's 'Best LCV 2012'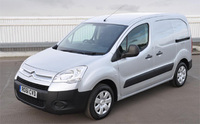 The Citroen Berlingo's award winning ways continue into 2012. This versatile LCV model has just gained the accolade of Institute of Transport Management's (ITM's) 'Best LCV 2012' award.

ITM's key criteria for deciding the award winner meant a van had to, "embody perennially important qualities such as reliability, cost-effectiveness and durability. It is because of this that the Institute of Transport Management has named the Citroen Berlingo the 'Best LCV 2012'."

In making the award, the ITM's judges commented that, "Businesses are looking for LCVs that are lighter, with lower emissions and better fuel efficiency, qualities that the Citroen Berlingo range has in spades. In particular, the Citroen Berlingo e-HDI Airdream models are equipped with e-HDi micro-hybrid Stop & Start technology."

In addition, the ITM also noted that, "For further fuel savings, all Berlingo vans are specified with Citroen's unique Trafficmaster telematics package. This further reduces urban fuel consumption and emissions by offering the fastest congestion avoidance routing direct to the driver."

According to the ITM, "The Berlingo has all the equipment and space of a light commercial van and yet drives like a car. It truly puts the customer in the driving seat, with its low emission alternatives, choice of load lengths and impressive range of standard features. It hits all the right buttons in areas such as efficiency, comfort, practicality and safety and the ITM is delighted to award it the title of 'Best LCV 2012'. Congratulations to all at Citroen – this accolade is truly deserved."

Scott Michael, Citroen's Commercial Vehicle Operations Manager, says, "We are delighted that the Berlingo has opened 2012 with yet another award and particularly one which recognises the Berlingo's versatility, reliability, exceptional fuel economy and low emissions by the key sector of transport management. No other small LCV range on sale in the UK can match the Euro 5 Citroen Berlingo's choice of models, payloads, load volumes, trim levels and seating configuration. With a choice of petrol, diesel or dual fuel engines, a unique extra traction van, a wide range of Ready to Run specialist bodies and a platform cab, there is a Berlingo to suit the widest range of operator requirements."

A key addition to the Euro 5 Berlingo range is the e-HDi Airdream models, with their micro-hydrid drivetrain to provide a unique combination of environmental, economic and driver benefits. Berlingo Airdream vans have Stop & Start with an advanced micro-hybrid starter/generator to restart the engine quickly and smoothly and incorporate regenerative braking to recover and store energy that would otherwise be lost. Berlingo e-HDi vans are available with a choice of either 5 speed manual transmission or Citroen's advanced 6-speed automated manual transmission, which provides the benefit of two-pedal driving and combined cycle fuel consumption of up to 60.1mpg and CO2 emissions as low as 123g/km.