Axminster Carpets awarded Royal Warrant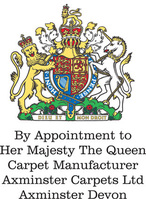 Axminster Carpets has joined an elite group of companies to be awarded the Royal Warrant, a mark of recognition for the supply of goods and services to Her Majesty The Queen for a period of at least five years and adherence to stringent environmental requirements.
Awarded to Axminster Carpets in the Queen's Jubilee year and regarded as a symbol of excellence and quality, the Royal Warrant demonstrates the family-owned company's manufacturing prowess that has seen it create a world-wide reputation for carpets of the highest quality.
"Being awarded the Royal Warrant is testament to our commitment to manufacturing carpets of the highest possible standard while also striving for exemplary service levels," comments Josh Dutfield, Group Managing Director. "The Axminster Carpets brand is synonymous with quality, and the Royal Warrant is further evidence of our ability to meet the highest expectations."
With its Devon manufacturing sites, Axminster Carpets is one of the few carpet companies still producing within the UK. The company also has the only fleece-to-floor operation, which sees the manufacturer source British wool and spin and dye its own yarn before the carpet manufacturing process begins. It is this attention-to-detail and complete control of the entire production process that sees the company regarded as one of the foremost carpet manufacturers operating today.
For further information, visit axminstercarpets.co.uk.