When typography meets furniture: The A Range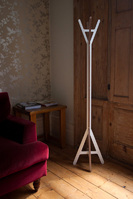 e-side.co.uk, the innovative concept store offering design-led sustainable furniture and eco luxury gifts, is pleased to introduce the "A Range", a collection of three stylish furniture pieces inspired by typography, by British design studio ByAlex.
The "A Range" is the debut furniture line from new and up and coming design studio ByAlex, founded by Alexander Swain. The first collection consists of three pieces of furniture formed from interlocking 'A' shapes. Such a design provides strength and longevity, whilst reflecting a love of typography.
The A Stool, The A Side Table and The A Coat Stand are great examples of functional yet innovative everyday furniture. Swain explains: "The A Range was born out of passion to create a multipurpose piece of furniture which was a little less serious. Since the 1950s Plywood has been used as a flexible, strong and sustainable material. After years of disposable products, I felt it was important to develop a flexible range for the longer term."
Made from FSC accredited plywood, each product is sourced responsibly from managed forests across Latvia. As a design company, ByAlex aims to create cutting edge yet eco friendly quality products that can be used in the office or home.
The A Range has been specifically designed with the consumer in mind. It comes flat pack and with an easy three-step guide, making it simple to assemble and disassemble.
Consequently the A Range is able to adapt to any new environment. Finished using a natural lacquer, the A Range is a blank canvas and comes in two colours, white and smoke grey.
Available at e-side.co.uk.