Celebrate epic snow conditions with free off-piste guiding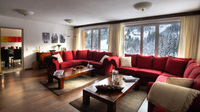 Luxury St Anton chalet company, Alpine Evolution, is offering free off-piste courses to all guests who book to stay with them during March.
St Anton has experienced some of the most epic snowfall this winter making powder conditions some of the best the resort has seen for nearly a decade.
To celebrate that and to ensure guests have the chance to experience the best snow and off-piste skiing that St Anton has to offer, Alpine Evolution is offering guests a free day of guiding with the famous Piste to Powder Mountain Guides.
Guides can offer a range of experiences catering for those who are new to off-piste up to those who are at an advanced off-piste skiing level.
Annabel Gonifas, from Alpine Evolution, said: "The snowfall this winter in St Anton has been absolutely incredible. We want to celebrate that and as a result we have teamed up with Piste to Powder to offer a free day's worth of off-piste guiding to all our guests staying with us in March.
"The guides aim is to take skiers safety to the best snow, challenge them in the right terrain and help them improve their ski technique and knowledge of the mountains. With so much snow around, it is essential that skiers are safe when going off-piste and do not take risks that could endanger themselves or others."
All Piste To Powder guides are UIAGM International Mountain Guides and avalanche science experts. All guests taking part in the Off-Piste Guiding will receive a safety package with digital transceiver, shovel and probe, transceiver training plus an avalanche safety briefing.
Alpine Evolution is a boutique chalet company operating in the heart of St Anton. It is run by British husband and wife team Annabel and Jason Gonifas.
The company has two boutique ski chalets located in Stadle area of the resort. These are Chalet Gertrud Gabl, which sleeps 16 people, and Chalet Der Alte Stadl that sleeps 6. Every season hundreds of skiers choose Alpine Evolution because of their renowned level of personal service and culinary reputation.
Annabel Gonifas overseas all catering operations within both chalets. As a highly acclaimed private chef and a finalist in The Times Online Chalet Chef Awards 2010, Annabel prides herself and the company on its gastronomic offering.
"Skiers expect more these days," said Annabel. "The days of amateurs taking the reins in a chalet kitchen are numbered. Guests want more than beef bourguignon and the like. Expectations are constantly being raised and as a company we are personally striving to exceed those."
A week staying in Chalet Gertrud Gabl on a half board basis starts at 975 euros per person. For more information, visit alpine-evolution.com.