Cool tunes from Geilo in Norway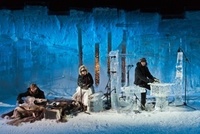 The unique Ice Music Festival is taking place at Geilo, Norway from 3rd to 5th of February. All the instruments, the stage and the festival arena are made of ice and snow.
The Ice Music Festival is being held for the seventh time at the beautiful destination Geilo, in Norway. The organizers expect many visitors - both Norwegians and guests from abroad.
The world's leading American ice artist, Bill Covitz, will be visiting the festival. Together with local enthusiasts, he will create a festival atmosphere like no other.
- This festival has received considerable recognition far beyond Norway's borders. The fact that everything is made of ice is exotic and the artists are well-known and true professionals, who will give the audience a unique experience, says Ivar Haugstad, project leader at the Ice Music Festival.
The world's first ice music CD "Iceman Ice" was released 10 years ago, and artists from this recording will be celebrating the anniversary with an opening concert. The festival's driving force, Terje Isungset, has invited some of Scandinavia's foremost jazz and contemporary musicians to Geilo and together they will all perform at the anniversary concert.
Festival tickets are already available at billettservice.no.