Swap patriotism for escapism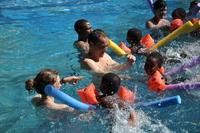 With just 6 months' to go until one of the biggest sporting events in the UK's history, many will already be planning their time off to ensure that not a single Olympic game is missed.
Others however (1 in 10 according to ABTA), may be swapping patriotism for escapism, with the hope of avoiding the large crowds set to head to our shores (and the transport chaos no doubt likely to ensue).
So for those who prefer to play sports rather than watch them, or just want a good time to get away, going abroad will provide a welcome alternative.
From Weymouth to the Whitsundays - Australia Tall Ships Sailing with Real Gap Experience:
The waters of Weymouth might be the home of sailing during the London 2012 Olympic Games, but the warmer weather of the Whitsundays won't have to try too hard to tempt Brits to their shores this summer.

Three lovely relaxing days, one group of beautiful Islands! Real Gap's Tall Ship sailing trip is perfect for those travelling along the East Coast and ideal for those who want to explore the outstanding Whitsunday Islands and Great Barrier Reef in style!
This experience of the Whitsundays will involve exploring the bays, coves and islets aboard a 105-year-old Tall Ship. With 10 sails and 5,500 square feet of sail area the ship will provide an authentic Australian shipping adventure! As a fully Eco Certified operators, crew on board will be able to provide knowledgeable and informative talks about the Islands, the Great Barrier Reef and the marine life, so that shipmates can fully appreciate their surroundings.
Prices start from £369 per person for 4 days and includes: 3 day/3 night sailing trip, 3 nights accommodation on board, all meals on board, guided Island walks and snorkelling. For more information, visit realgap.com.

It's not an Olympic sport yet – Surf and save turtles in Costa Rica:

With surfing yet to gain Olympic status (despite hard petitioning), lovers of the sport should use this year as an opportunity to head off to somewhere that embraces surfing as much as they do.
On the golden shores of Costa Rica, i-to-i Volunteering work alongside experienced projects that aim to conserve the local sea turtle population. With an enviable itinerary of surfing lessons in the morning, preparing turtle hatcheries in the afternoon and beach patrolling at night, it won't take much to convince those without tickets to the Olympics to swap TV programmes for turtle protection.
Prices start from £599 per person for 1 week land only (available for up to 4 weeks) and includes: Accommodation in volunteer houses 30 seconds from the beach, all meals, airport pick-up on arrival and an in-country orientation are included along with 24hr support. For further information, visit i-to-i.com.
Swimming is a lifeline as well as an Olympic Sport – Swaziland Family Volunteering:

It's a sad fact, but the amount of Swazi children drowning in rivers and damns is constantly on the rise, due to lack of swimming lessons available. The problem is now being tackled and British volunteers who know their back stroke from their front crawl, can lend a helping hand to neighbourhood care projects in Swaziland.

Inspired Breaks works with a number of these projects to give individuals and families the chance to use their time off to combine volunteering with a wonderful holiday. This trip includes time spent volunteering, followed by camping under the stars on a camping safari to South Africa's world famous Kruger National Park.
Each member of the family will have the opportunity to get involved with the community: swimming, reading, writing, playing games, developing facilities and helping at meal times.
Prices start from £4356 for a family of four (£889 per child and £1,289 per adult) for 2 weeks land only. Trip includes in-country transport, accommodation (lodge and tents), all meals, 3 day Kruger tour and 24 hour support. For more information, visit inspiredbreaks.co.uk.